If It's Good For Your Heart…
|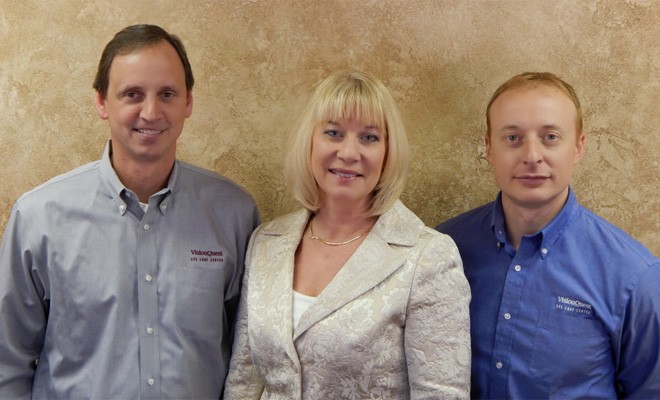 Philip J. Gross, OD      Michele R. Haranin, OD     A. Aaron Yatskevich, OD
Patients often ask what they can do to keep their eyes healthy. Many of our recommendations are the very same lifestyle choices that contribute to maintaining heart health.
First and foremost is diet. Eat a variety of green leafy vegetables and fruits containing antioxidants to help the body fight the effects of many environmental toxins. Specifically, we know that we can slow the formation of cataracts and the progression of macular degeneration. Even dry eyes can be helped by including omega-3 in the diet, drinking adequate water and avoiding artificial sweeteners.
Don't smoke! Smokers develop cataracts at an earlier age than non smokers and the risk of developing macular degeneration in those with a family history is much higher. The severity and progression from dry to wet macular degeneration are also impacted by smoking.
Exercise and maintain a healthy weight. More oxygen and nutrients are delivered to tissues, plus the removal of toxic waste products are facilitated by exercising.
Many chronic diseases such as diabetes, hypertension and high cholesterol that cause secondary eye conditions may be prevented by living a healthy lifestyle. Even eye pressure, a factor in glaucoma, can be reduced by losing weight.
The last recommendation may not be relevant in heart health, but it is very important for eye health. Protecting the eyes from ultraviolet rays helps reduce the chance of getting macular degeneration, early cataracts, skin cancer of the eyelids, and changes of the surface of the eye.
Take care of your heart and you will enjoy the benefits in many other ways that give you the best possible quality of life.
Vision Quest Eye Care Center
820 Walker Road
Dover, DE 19904
302-678-3545
www.vqeyecare.com
Office Hours:
Monday9:30 AM – 6:30 PM
Tuesday8:30 AM – 4:30 PM
Wednesday8:30 AM – 4:30 PM
Thursday9:30 AM – 6:30 PM
Friday 8:30 AM – 1:00 PM

Patient Testimonials:
I have been seeing Dr. Gross at Vision Quest for about 5 years now and I have nothing but wonderful things to say about him and the staff at Vision Quest. — Carol B.
I was taken back less than 5 minutes after arriving. Everyone was super nice. The dr explained everything and was very thorough. The optical lab was also prompt and very patient and attentive. I had a very positive experience! Thank you!  — Mindy B.
Always a comfortable place to be. — Bonnie R.
Great place to come for eye problems. — Georgina C.

Best Eye Care Center in Dover –
I cannot begin to tell you how pleased I am with staff at Vision Quest. Everyone is so polite and courteous. They really listen to you and not only do they care about your eye health but your overall health as well. Dr. Gross is amazing and is always ready with great advice. I would never go anywhere else for my eye care. I have also recommended others and they have had the same experience. — Crystal S.

I have been a patient of Vision Quest for many years and I've never had a bad expeience there. The entire staff is geared toward quality care and a comfortable experience. — Mike D.
Excellent as always – I have been a patient for years and have always received excellent service. — Ray S.
The same person took care of me from arrival thru getting new glasses. She was very courteous, helpful and friendly. A real pleasure to work with.  — Robert E.