I Trust My Gut
|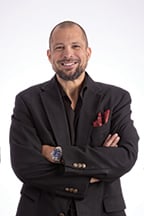 By Joe White
I had to trust my gut.
It told me my prepared talk for the group I was speaking for was different from what they needed to hear from me. 
I was the Keynote Speaker at the national conference for pawTree, a leading Direct Sales Organization focused on Pet Wellness. I was to speak to them for 4 hours and conclude with the participants walking barefoot over 1200-degree coals—a firewalk experience.
But my gut was in full read mode, and it was screaming, "Healing before the transformation."
But this is a corporate event. I don't dig deep into personal stuff at corporate events. I don't do my full Joe thing. Not here!!
Yet, my gut would not leave me alone until I listened to it, trusted it, and went off script to uncharted water.
I wanted to first shift the energy of the room. I had to get people connected to their emotions and fears. I led the group through a closed-eye meditation and took shares from the floor. It was working. The truth and emotions began to flow from the participants. 
I started to feel it; I left the stage, worked the floor, and did what I do best.
The firewalk was amazing. Everyone loved it and did incredible. My FIRE TEAM was brilliant, and the pawTree tribe are some of the most loving and caring souls I have ever met.
The firewalk was the perfect metaphor to anchor and solidify what happened inside the room.
Then, my confirmation occurred: my gut was 100% correct. 
After the event, a larger-than-normal number of people wanted to speak to me and share their stories with me. Everything from their close-eye meditation experience, to their trauma and breakthrough, to who they became on the other side of the coals was incredible. The CEO even personally thanked me for taking such good care of his people. 
Seeing in their eyes and hearing in their voices their truths and vulnerability was humbling and honoring. Change isn't always easy and is often messy, but that is okay because that is just how change is at times.
We want to wait for the perfect moment or until we feel ready before taking action. 
But there is no perfect moment, and you will never feel fully ready. 
When we wait, all we do is take one day of our lives and toss it away. 
If you are still reading this, your gut, your instinct, is already talking to you. 
It is time to listen to it and trust it; it already knows the answers.
Rattle The Cage 
For more information visit www.GetLifeCoaching.com and or www.Firewalking.com or call 302-832-3424.
Bio
Joe White, President and founder of Get Life Coaching, started Delaware's first Life Coaching practice in Delaware over 23 years ago. Joe overcame a near-fatal drug and alcohol addiction 27 years ago and changed his life forever. Today Joe specializes in working with individuals who desire deep and sustainable change in their lives. He has worked with over 1 million individuals and businesses around the world. Joe also owns the Firewalk Institute of Research and Education, which trains and certifies firewalk instructors all over the world, including such notables as Tony Robbins and T. Harv. Ekers.   
Testimonials
"This was the most amazing experience of my life! You did exactly what was needed! Kudos to reading and knowing those you were serving!! Forever grateful to you, Joe!!" ~ L. Domday
"Before I started with Get Life, I felt my life was out of control and I felt powerless to do anything about it. Joe White will get you MASSIVE breakthroughs and tools to take back control of your power and direction in your life. Never before have I ever felt clear with what I want, where I want to go, and how to get there." ~ Luke C.
Joe White
Get Life Coaching
302-832-3424