HOME Isn't Necessarily Where We've Resided Our Whole Lives
|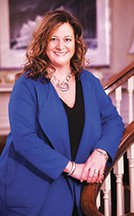 By Kristin Stetler Donovan, Owner, Age Advantage of Newark 
Sometimes home isn't necessarily the place we have lived our whole lives or even a majority of our lives. Home is often thought of as a place where we consider ourselves safe, warm and happy, surrounded by family or friends. As we age we look to simplify and have fewer responsibilities. Homeownership can be a wonderful thing until that time that it becomes physically exhausting or impossible to maintain. Seniors often become overwhelmed by the demands of maintaining a home. Often they choose to downsize and move into a Senior Community where they can have their responsibilities lessened and their stress level decreased by shedding themselves of the large home they no longer find a pleasure, but rather a burden. Senior Living Communities provide the freedom from the physical toils of homeownership.
Independent and Assisted Living Communities have become an alternative to the traditional homes we have always lived in and become a "home away from home". Community living provides socialization and also the ability to transfer within the community if and when higher acuity care is needed. Acknowledging our own mortality and growing old is accompanied by constant life changes. Changing our lifestyle and living accommodation is stressful no matter what age we are. As we watch our parents' transition in Senior Care Communities it is sometimes overwhelming for the children of those seniors, as well as the seniors themselves. Accepting the fact that our parents are aging is never easy.
The extra assistance that Age Advantage provides takes place at "home," whether that be the home you've had for 30 years or the Senior Community you are residing in for 10 years and then have to move to Assisted Living or Memory Care. As you will read in the following letter received by the agency it is our job to support clients and their families through the difficult changes that one day we will all go through. Compassion, caring and dedication are so very important in these times of need.
Dear Ms. Stetler-Donovan, 
Several weeks ago my sister Pam contacted you regarding caregivers for our mother, Ellie, who was residing in Assisted Living. This seemed like a logical step in her transition to a more structured environment, as she just celebrated her 95th birthday. Two days ago she was moved from Assisted Living to Memory Care. As I was the family member assisting with this move, I got to work with three of your staff members on Monday and Tuesday, Sept 18 and 19: Crystal, Eleanor and Lynn. I wanted to be in touch with you to say how helpful they were in the moving process. Especially since I never had experience with anyone in this caregiver role, I was impressed with how they conducted themselves and all they had to offer.
Crystal was the first one I met, around 2:00 on Monday, and she was just there until Eleanor arrived at 3:00. Crystal was my first impression, however, and I was struck by her kind and considerate dealings with my mother and her helpfulness to me as we anticipated the moving process. On Monday afternoon my goals were to remove excess books from the room back to the library (probably 80 on that day, 20 the next day) and Crystal was helpful in actually taking them there. Once Eleanor arrived we were dealing with a huge excess of clothing. Let me say that my mother seems comforted by having a huge excess of everything, so reducing her clothing to one half the amount was quite a project to talk her through. I found Eleanor quite helpful in assisting my mother in making choices and me in packing up clothes to keep and clothes to donate. Eleanor also just seemed to have good instincts, as when she took my mom to dinner quite early and just sat at the table and kindly talked with her—giving me a chance to pack up the donations out of my mother's view.  
Tuesday was a challenging day, and Lynn was most helpful. The morning was busy with myself, my brother and his (lovely) dog Sunny all there trying to make progress. Lynn kept her attention on my mother and what else she could do to help. I must say I wasn't clear on the role that the Community staff would play in this move, so we had to figure things out. Lynn asked good clarifying questions concerning her role, and I appreciated being able to answer them. Once lunch was over, Lynn kept my mother busy in another part of the facility, down the hall from her room. I had been collecting a large amount of items in the lounge next door to be taken away later as trash, and was quite concerned that my mother not see those things and feel bad about them. Lynn just took care of that, taking her for a manicure etc. Most important, Lynn was concerned about the fact that, for that day, Sept 19, she was scheduled to leave at 3:00 and the night person wasn't scheduled to arrive until later in the evening. The actual move of my mother turned out to be later than expected, so Lynn asked me if it would be helpful for her to stay for an additional hour or two. I appreciated it that she saw this need and was very relieved and happy to approve her staying with me and my mom to finish this process. She delivered mom to the Memory Care staff for her ride to the other building and met her at the new location—completely taking care of my mom so that I could deal with getting the room set up.  I could not have gotten through the day on Tuesday without Lynn.  
A couple additional thoughts about these three caregivers. They all had to think on their feet in dealing with additional people beyond my mother, and in this complex situation. They all had to deal with toileting needs, which I thought were handled in a matter-of-fact way with compassion (and which I was endlessly grateful not to have to attempt myself). Moving my mother to Memory Care is a kind of sad process—it's what she needs, and we can rest easier knowing she is there. I just wanted you to know how much Crystal, Eleanor and Lynn helped with their kindness and professionalism. They are a credit to your organization.
With deep appreciation and kindest regards, Sharon
(The names in the letter above have been changed for privacy and HIPAA compliance, as well as, the Senior Community name omitted.)
If you or a loved one are in need of assistance please contact Age Advantage Senior Care Services at (302)722-8240 and we would be happy to help in any way we can.