Heating, Cooling, Plumbing & Electrical Services
|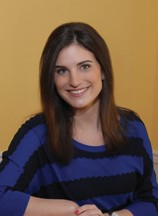 Driven By Excellence & Fairness
Alexis Frederick,
Sales and Marketing Coordinator/Customer Service, [email protected] 
Ever since she was a little girl, she has known that the Frederick family name stands for excellence
and fairness.
And now, as the fourth generation to join Joseph Frederick & Sons, she understands how those qualities resonate beyond her family and into the family business.
Every time the expert technicians install a new heating system, remodel a kitchen, or just fix a leaky pipe, their family name is on the line.
They take that very seriously. Her Great-Grandpa Joe started the family business out of the back of a second-hand plumbing truck in 1947. He succeeded because he did an excellent job at a fair price, and he stood behind his work.
When her grandfather took over, he applied that same work ethic, and Joseph Frederick & Sons grew. Her father and uncle, who have led the company for the past 20 years, say the company continues to flourish because they stick to those same values.
The success Joseph Frederick & Sons enjoys today is built on the reputation her great-grandfather first established 68 years ago. Many of their current customers are the children and even grandchildren of her Great-Grandpa Joe's customers.
She joined the company 8 years ago, and still has a lot to learn. But she has spent her whole life learning the importance of that Frederick work ethic.
She says, "If I ever have the privilege of leading Joseph Frederick & Sons, I'll follow the lead of my father, my uncle, my grandfather and my great-grandfather. Our family business will always be driven by excellence and fairness."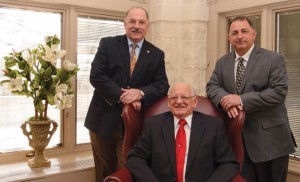 Our Company History…
Our grandfather started this business in 1947 with one truck, a willingness to work hard, and a sense of integrity. Today, four generations later, we are proud to say that the name Joseph Frederick & Sons means the best in residential and commercial air conditioning, electrical systems, heating, and plumbing. The core values on which our family's business was first built remain its cornerstone – our sense of integrity, dependability, and quality workmanship has withstood the test of time. We are a proud member of the BBB and past winners of their Torch and Rush awards. We are also a Carrier Factory Authorized Dealer and 4-time winner of their prestigious President's Award.
Our Employees…
Our service technicians, sales department, and customer service representatives are a part of our family, sharing our family values and high standards of quality. We are confident and willing to place a warranty on all of our work and products, all of the time, no matter what. We employ NATE-certified installation and service technicians, which means we provide our customers with the very best service possible.
Our Customer Assurance Plan…
Our Customer Assurance Plan helps keep your HVAC equipment running smoothly and efficiently all year long.  Be safe, rather than sorry – detect problems in your equipment before they compromise your comfort or your checkbook. Sign up for our Customer Assurance Plan and enjoy annual checkups of your HVAC units, discounted rates on all your service calls, and priority status for faster service in emergencies.
Our Bath & Kitchen Renovation Department…
Great kitchens and bathrooms are more than just pretty cabinets and nice color combinations. To create a truly great kitchen or bathroom, the plumbing, air flow, and electrical planning must be part of the initial design process, rather than being shoehorned in at the end.  That's why Joseph Frederick & Sons is the company to call when it's time to remodel your kitchen or bathroom.
With more than 65 years of expertise in heating, cooling, plumbing, and electrical services, we work with you every step of the way, from design through installation, so your new kitchen or bathroom will be well-made both inside and out. We work with top-quality suppliers to ensure that you get the very best cabinets, fixtures, and flooring. To set up a free consultation, contact us today.
Our $50 Referral Program…
Tell a friend about Joseph Frederick & Sons for their next purchase of heating, cooling, or plumbing equipment, and you could receive a $50 American Express gift card. If your friend makes a purchase from us and gives your name and address to our salesman, we'll send you the gift card. Refer two friends and receive two gift cards – it's the referral/gift that keeps on giving!
Our Testimonials…
We could not be happier with the knowledgeable, friendly and prompt staff at Joseph Frederick & Sons. They installed several A/C compressors. They took the worry and uncertainty out of our large project and made it a manageable and pain-free experience. We have definitely been won over to your company!   ~ Customer from Greenville, DE
Joseph Frederick and Sons fixed our plumbing problem that has plagued us for 10 years. The basement is finally dry!  Thanks so much! ~ Customer from Wilmington, DE
Joseph Frederick and Sons has quality service and professional crews (always pleasant). They are very competent and informative…and always efficient! We and our checkbook love the company!  ~ Customer from Newark, DE
Contact us…
Thank you for considering Joseph Frederick & Sons for your home's air conditioning, electrical, heating, plumbing, and bath & kitchen remodeling needs.
We are located at 810 Stanton Road in the Marshallton area of Wilmington, Delaware. Business hours are 7:30am – 4:30pm with 24 Hour Emergency Service. Visit us today at our website, www.jfrederickandsons.com, check us out on Facebook, or contact us at (302) 994-5786. 
We look forward to serving you!