Have you heard about Great Stuff? Hey, have you been to Great Stuff? Where? What's Great Stuff?
|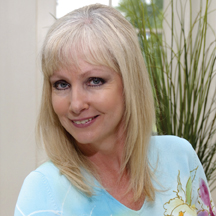 By Dale Maahs, General Manager
"Really?! Great Stuff is the best resale boutique!"
That's where I bought my dress, shoes, jewelry AND handbag for my girlfriend's graduation party. Great Stuff carries all of the designers and name brands that we love! Joe's Jeans, Lilly Pulitzer, St. John, Coach, Chico's, Burberry, all at great low prices. All of the merchandise in the boutique is donated and not consigned, so their prices are really good. And the shop offers wonderful customer service provided in a pretty boutique setting — Great Stuff has redefined "resale". Not only does the shop sell clothing and accessories, but if you need a gift or a little something for your place, Great Stuff has home accents, furniture, artwork, and gift certificates. Oh, by the way, if you are looking for a fun night out with your girlfriends, the volunteers at Great Stuff can arrange a private shopping party just for you! I did and what a blast it was! Did I tell you about the best thing of all? All net proceeds from Great Stuff go directly to the Delaware Breast Cancer Coalition to support programs in Delaware for men and women who are in need of their services. The money stays right here in Delaware and supports a local non-profit. It's a win-win situation for everyone."
"Let's go!" Spring and Summer donations are now being accepted. Do you have furniture to donate? We can arrange free pick-up through Hopkins and Sons Moving. Call Dale at 302-478-7890 for information.
Join us on Saturday, July 13 for the Talleyville Center Sale-a-bration and Family Fun Day! There will be sidewalk sales, a fire truck from Talleyville Fire Co., face painting, make-up and hairstyle demonstrations, free hotdogs, and more!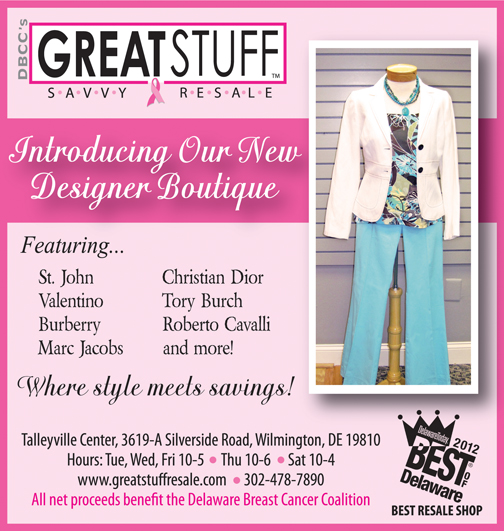 Get Involved in the Fight Against Breast Cancer
People often ask us "How can I help?" The fight against breast cancer is certainly a community effort – from the doctors and medical professionals who provide care to the family and friends who provide support to the businesses and organizations who raise funds. Here are two ways you can help make an impact.
Become a DBCC Volunteer & Breast Cancer Advocate
DBCC wouldn't be able to do as much in the community without our wonderful volunteers. Our volunteers help with community outreach and fundraising events, help around the office, and more. Volunteers can help on a regular basis or with special events as needed. You can also become a breast cancer advocate by learning more about breast cancer and breast health. You can attend our Annual Breast Cancer Update, a free conference, so that you can educate others about what they need to know about breast cancer.
Have Your Business or Organization Partner with DBCC
Businesses and organizations get creative and think of unique ways to raise money for DBCC including events like golf tournaments, walks, special sales, and more. If you belong to a community group or if your employer is looking for a way to get involved in the community, suggest a partnership with DBCC. You can help raise funds for the life-saving fight against breast cancer.
If you are interested in getting involved please call us toll-free at 1-866-312-DBCC (3222) or visit us online at www.debreastcancer.org to learn more.
Upcoming Events
July 11 – DBCC Night at the Blue Rocks
September 12 – 3rd Annual Women's Race for the Pink Ribbon 5K
October 5 – 3rd Annual Dewey Goes Pink 5K at the Starboard
October 19 – Northern Lights of Life at Otto's BMW, West Chester, PA