First State Compassion Q&A With Mark Lally
|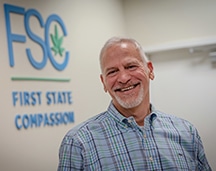 Mark Lally, Delaware's medical marijuana pioneer, is CEO of First State Compassion.
Q: Welcome Mark. As CEO of First State Compassion your professional pathway is so interesting: from Cop to Cannabis Pioneer. How did that happen?
A: Well, to start with, helping people is what really drives me. After spending more than 24 years in law enforcement, I was selected by U.S. Senator Tom Carper as his Sussex County Regional Director to help build relationships with the local neighborhood and business communities. Later, I started a successful contract-lobbying business promoting good policy and legislation. Then, a chance meeting with TV personality Montel Williams gave me a new perspective of looking at Marijuana as a medicine as opposed to an illegal drug. He spoke about using cannabis to treat his multiple sclerosis. Flash forward a couple years and now I help people treat their pain and alleviate their suffering by cultivating and dispensing safe, quality medical cannabis products from the State's first, and largest, compassion center facilities.
Q: My husband and friends would be shocked if I started using medical marijuana for my arthritis. Besides, I don't like smoking. 
A: First of all, smoking is just one method. If you have a qualifying condition like arthritis, we have capsules, oils, chewable tablets and other products to choose from. There are so many myths about medical marijuana, so I've had to become an expert on the facts. The truth is it helps heal people from their suffering and helps control their pain.
Q: Can you tell me about the connection between women's health and medical marijuana?
A: Women are surprised to learn that medical marijuana helps treat a number of conditions more prevalent in females than men. In addition to arthritis, almost two-thirds of Americans with Alzheimer's Disease are women. PTSD can impact women and men equally. And the second most common threat to a woman's life is cancer. Medical marijuana can play a therapeutic role in treating all of these conditions.
Q: What do you say to those who are using opioids to treat their pain?
A: Medical marijuana doesn't have the unwanted side effects of other medications. And for those who didn't have the information or opportunity before, I want them to realize they have access to a new medication that can change the quality of their life.
Q: What's the most important thing you want first-time patients to know?
A: We want them to trust us and feel safe relying on our products. We serve thousands of patients every month, and our trained Patient Advisors get to know each individual and truly care about them.
Q: You seem very passionate about what you do. Why?
A: When I first became interested in this business, it was clear to me the path I wanted to follow: I didn't just want to open the first medical marijuana business in Delaware. I wanted to set the standard for the industry. I wanted to create industry-leading procedures and good policies. And that's what I'm doing every day.
Q: I'm interested in considering medical marijuana. What do I need to do next?
A: Start by being your own advocate. Do some research. Ask questions. If you think medical marijuana could alleviate some of your symptoms, have a candid conversation with your doctor. They will need to certify that you have a qualifying condition before you can apply for a medical marijuana card. Remember this is your health, your quality of life, your decision. And don't forget to visit our website at firststatecompassion.com for more answers to your questions.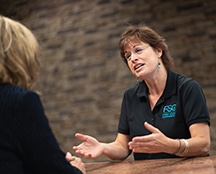 FSC Patient Advisor Louise Lewis counsels a patient on the best medical marijuana for her severe arthritis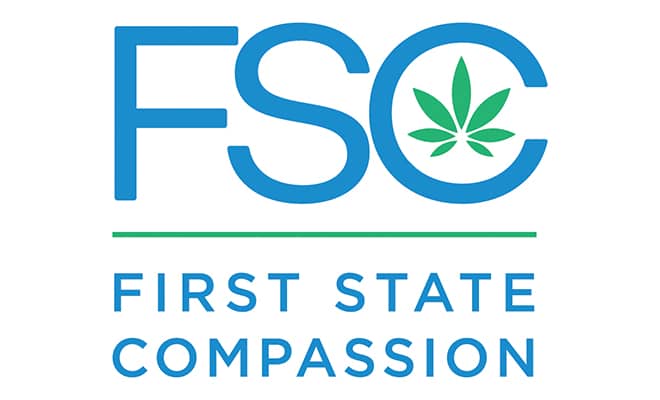 302-543-2100     37 Germay Drive, Wilmington, DE
302-281-4888      12000 Old Vine Blvd, Unit 102, Lewes, DE