Finding Beauty
|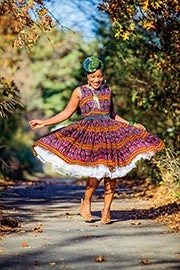 Shiri Achu was born in Cameroon, West Africa. She and her family immigrated to London, where she lived for many years. Today, she has studios in Cameroon, the UK and the USA, where she is currently based.
After obtaining an A* and A at GCSE and "A" level Art, she went on to study Architecture at Cardiff University. Since qualifying as an Architect, Shiri longed for her paintbrush and has been actively pursuing her passion of painting. Her preferred mediums are acrylics, but she works with mixed media also.
Shiri Achu's art comes from everyday, unsurprising, yet unexpectedly vivid, moments, times, and places. She is reputed to capture the spirit of her subjects and make them come alive through form, color, texture, and tone.
One of the aims of Shiri Achu's Art is to showcase the culture of Cameroon and other African countries worldwide. It's also to bring back fond memories to those in the diaspora.
Shiri finds beauty in the woman carrying her child on her back and going on her way. She finds beauty in the old lady who makes her "achu" in her dark outdoor kitchen for her grandchildren. She finds beauty in the African fabrics. She finds beauty, envy even, in the young girl climbing the tree.
Shiri's paintings reflect the beautiful simplicity of Africa and she offers this to the western world to encourage understanding of the culture and interest in travel to African nations.
Shiri makes some of her works into limited edition prints; therefore, it's easy to transport her work around the world. Since her first solo exhibition in London 10 years ago, she has exhibited in various parts of the world including London, Washington DC, Chiang Mai, Lisbon, Amsterdam, Barcelona, Las Vegas, and Puerto Rico. Further, Shiri's series of "InPrint" Exhibitions are taking her to regions farther afield.
Shiri Achu Limited Edition Prints are stocked at Naprstek Museum of Asian, African and American Cultures in Prague. Also, The Smithsonian (National Museum of African Art) orders, and sells out of, Shiri Achu Art limited edition prints.
Art critic Lennox Campello, chose her works as TOP 10 at the Artomatic 2016 art exhibition where hundreds of artists come together under one roof, over several floors to exhibit. In his write-up, he states, Shiri Achu's art is "Powerful African Art in a marriage of contemporary skills with strong African imagery…" (http://dcartnews.blogspot.com/2016/11/artomatic-2016-review.html)
Shiri Achu's Art is gripping and engaging across the globe. Her works (Originals and Signed Limited prints) have been and are continually sought after all over the world. Her works have been featured in several magazines, newspapers, blogs, and the book, International Contemporary Masters VII, published by World Wide Art books Inc, pages 64-65.
In April 2017, Grammy award-winning American singer, songwriter, record producer, and actress Brandy commented about Shiri's painting 'Midnight Tradition', "This is so beautiful, I mean, really, its sooo beautiful!!" When Shiri receives messages such as this, "I can recognise your art as beautiful because it makes my heart want to smile" (Samir Malik), she is motivated to work even harder to keep making hearts smile. Additionally, Shiri is extremely pleased and excited that she is achieving one of her goals of promoting the African Culture worldwide.
Shiri Achu Awards:
"The best Artist in Brent" by the Brent Council. London
TOP 10 Artist at "Artomatic" 2016, Washington DC
Distinguished Fellowship of African Art and Culture, FAAC
CONTACT SHIRI ACHU ART:
240 696 9297
twitter: @shiriachuart
instagram: shiriachuart
facebook: SHIRI ACHU ART