Eyelash Extensions – Great Complement to Your Summer Vacation!
|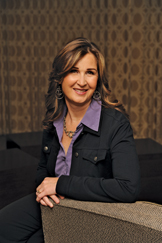 By Melisa A. Ferriola, CPCP
Most of us were just not born with naturally long eyelashes. Or we were and as we have aged our lashes are taking a tumble on us. Well, like most things these days, we can fix that. Re-gain the lashes of your youth. Perk up tired eyes. Save time on your morning routine. All are great benefits found with Semi-Permanent Individual Eyelash Extensions.
Eyelash extensions have gained tremendous popularity in the last few years because of their natural look, ease of application, and affordability. With semi-permanent eyelash extensions, eyelashes are made thicker and longer through professional application of a synthetic eyelash that is curved to replicate a natural lash. Extensions are applied one lash at a time with care and precision using special bonding agents for a completely natural look! The result is thicker, longer eyelashes that are safe in the shower, while swimming, sleeping or exercising.
Your extensions can last up to 5 weeks depending on the life cycle of your own natural lash, your eyelash characteristics, lifestyle and care of your extensions. Your initial appointment could be 60 to 90 minutes, depending on your set size choice. As your natural lash grows, your extension grows with it! 30 to 60 minute Refining Applications are recommended every 2 to 4 weeks to keep your set fresh. Timeframes can vary person to person depending on your custom wants and needs.
What to look for:
Training – Good skill can only be developed after a good initial training program. Most programs run 1 to 2 days and require follow up with an instructor to demonstrate skill after several practice sessions. In most states, the Board of Cosmetology treats extensions as an added skill after licensing, with an esthetician or cosmetology license required to work on someone's lashes. (Nail technicians, Massage Therapists and Nurses are not authorized to apply lash extensions.) There is no licensing or certification by the board for this skill in particular – only from the training companies themselves. The big national companies – Xtreme Lash, Novalash and Shavasana. Locally – Lasting Looks.
Skill – These are INDIVIDUAL lash extensions – meaning, they are not attached to each other. If a poor application results in multiple extensions on each of your lashes, or multiple lashes sticking together, your natural lashes will have a hard time continuing on their natural growth cycle. Glue should never touch your eyelid and you should be able to gently brush through your lashes without snags. Snags translate to too much glue, clumping and lashes stuck together. It cannot be stressed enough – find a reputable salon or spa that has been well trained and can answer simple questions about the safety of your natural lashes.
Experience – Experience should be measured in the number of clients maintained and retained by a technician daily or weekly for this service. A technician that has been doing lash extensions for over a year, but only one or two per week, is not as experienced as a technician performing extensions for four months that does several per day. With the obvious skill level, the best lash technicians are able to retain clients for years without damaging a client's natural lash.
Whether you are looking for a time-saving, everyday look, lashes for your wedding day and honeymoon, a glamorous look for prom, a professional look for a business portrait or a weekend away, Lasting Looks has the professional, perfected technique, applied by a licensed, certified and experienced Eyelash Extension Specialist. Safe and affordable, trust your eyes to Lasting Looks! www.LastingLooksForYou.com


Who would benefit from eyelash extensions?
Busy Moms, as a great time-saver
The Vogue Teen, for her prom and graduation
The Blushing Bride and bridal party, for a joyful celebration
The Business Professional, for a polished image
The Mature Retiree, to bring back the lashes of her youth
The 20-Something, for a glamorous night on the town
The Fitness Enthusiast, for looking great while working hard
The Natural Blond, for dark, dramatic lashes

Profile

In 2006, after a 20 year corporate career, Melisa Ferriola opened Lasting Looks – a permanent cosmetics studio, lash bar and day spa located in Hockessin, Delaware. The Lasting Looks mission starts with the desire to empower women to take charge of their appearance and to put their best image forward. Our staff of estheticians can help meet all your skincare needs, as well as our unique services like eyelash extensions and permanent cosmetics.