Empty Nester? What's Next?
|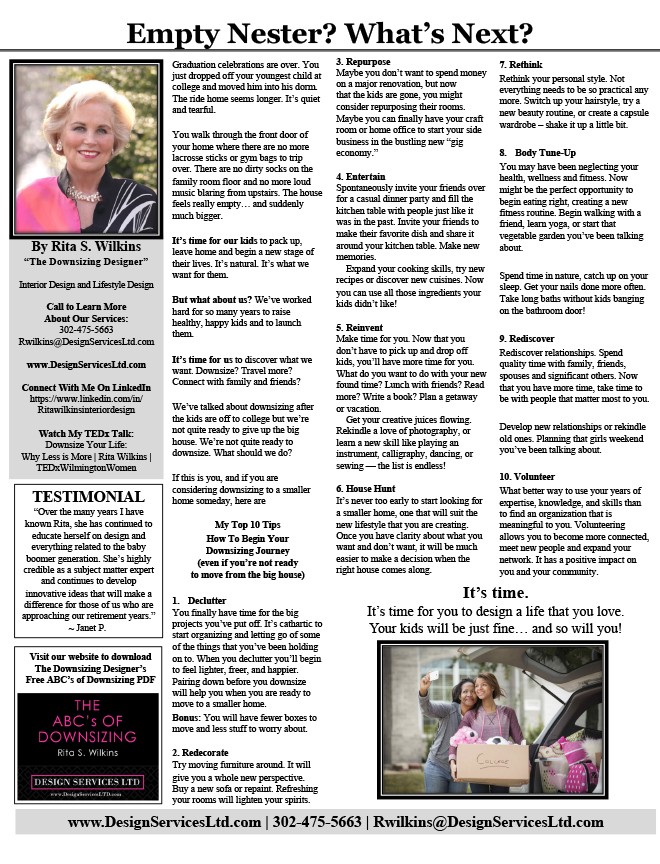 Do you want to learn more about downsizing and decluttering?
Call us to discuss your design needs 302-475-5663.
Visit our website to download The Downsizing Designer's Free ABCs of Downsizing PDF http://www.designservicesltd.com/abcs-of-downsizing-landing-page/
TESTIMONIAL
"Over the many years I have known Rita, she has continued to educate herself on design and everything related to the baby boomer generation. She's highly credible as a subject matter expert and continues to develop innovative ideas that will make a difference for those of us who are approaching our retirement years."      – Janet P.
By Rita S. Wilkins "The Downsizing Designer"
Interior Design and Lifestyle Design
Call to Learn More About Our Services:
302-475-5663 | [email protected] | www.DesignServicesLtd.com
Connect With Me On LinkedIn
https://www.linkedin.com/in/Ritawilkinsinteriordesign
Watch My TEDx Talk:
Downsize Your Life: Why Less is More | Rita Wilkins | TEDxWilmingtonWomen