Don't Let Osteoporosis Sneak Up On You;
|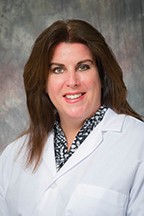 Learn About Your Bone Health Today
By Colleen DeTurk, APRN, MSN, WHNP
You can't feel it. But you could be experiencing bone loss at this very moment, especially if you are a postmenopausal woman.
Osteoporosis is a silent disease. It literally means "porous bone." If we don't take steps to maintain bone health, it can creep up on us as we age, contributing to serious bone fractures and debilitation.
Most females build more bone than they lose until about age 30. Then the breakdown of bones begins to outdistance buildup. At menopause, bone loss typically accelerates because the amount of estrogen a woman's body produces falls off dramatically.
The average age of menopause in the United States is 51. But perimenopause, the period leading up to menopause, can be as long as 10 years.
That is why you should learn about bone health in your 40s, when estrogen levels begin to decrease and bones become more vulnerable.
This is not a conversation you can put off. It's important to be an active partner in your own health. Women have unique needs and you shouldn't stop visiting your gynecologist's practice just because your reproductive life is over.
Christiana Care health care providers will help you evaluate the risks and benefits of hormone therapy that can increase your levels of estrogen. We talk about the importance of getting enough calcium and Vitamin D, and doing regular weight-bearing exercises, such as hiking, aerobics and lifting weights. (Swimming and biking are good for your heart but don't provide the resistance of weight-bearing exercises).
The best source of calcium is through your diet, consuming dairy products, green leafy vegetables, tofu, sardines and canned salmon. Choose orange juice that has been fortified with calcium.
If you aren't meeting your calcium needs through food, we recommend supplements. Be certain to combine Vitamin D with calcium because we can't metabolize the mineral without it.
Under U.S. Preventive Services Task Force guidelines, you should start receiving screenings for osteoporosis at age 65, unless you have risk factors. Those include having a low Body Mass Index—one of the few times being thin is not a good thing —and reaching menopause before age 40. You also are more likely to develop osteoporosis if you are Caucasian or Asian.
Other risk factors include: rheumatoid arthritis, diabetes, smoking, consuming more than three alcoholic drinks a day, malabsorption syndromes such as Celiac disease, Crohn's disease, gastric resection and some bariatric surgical procedures in addition to a family history of hip fractures or osteoporosis. You also are more likely to develop osteoporosis if you take steroids, certain medications used to treat depression or gastric reflux and some seizure medications. A lifetime of low calcium intake and physical inactivity also increases your risk of developing osteoporosis.
We test for osteoporosis via a dual energy X-ray absorptiometry, commonly known as a DXA scan. It focuses on the bones in the hips and the spine, which can give your provider an accurate picture of your risk of fracture in other bones.
The scan is painless and quick, lasting 20 minutes or less. If it reveals osteopenia, the thinning of your bones, we can suggest treatments and good habits that can help prevent your bones from deteriorating further.
If you already have osteoporosis, don't despair. There are medications that slow bone loss and medication that actually may rebuild bone.
The worst thing you can do for your bones is nothing. To achieve good bone health you need to be a willing participant. Count on your Christiana Care health care provider to be a respectful, expert caring partner in keeping your bones strong so that you can achieve optimum health.
Learn how to take good care of your bones, so they can last you a lifetime.
To make an appointment, contact:
The Christiana Care Center for Women's Obstetrics, Gynecology and Reproductive Health
Medical Arts Pavilion 2
4735 Ogletown-Stanton Rd, Suite 1109, Newark, DE
302-623-4175