Customized Cosmetics by Ashley
|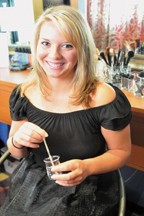 By Ashley Bizzarri, Owner of Customized Cosmetics by Ashley and Custom Blend Specialist
Upon graduation from Virginia Tech, like most, I started climbing the Corporate America ladder feeling unsatisfied and fearful of spending the rest of my life living for the weekends. I went to an event searching for some inspiration and in the lobby of the event a Custom Blend booth was set up. I have always loved playing with makeup and I found the process of custom blending fascinating!
I was excited to learn the ingredients were all-natural because I always had problems with breaking out from other foundations. The Custom Blend Specialist perfectly matched my skin color, eliminated my extreme redness while keeping my coverage light and natural as requested. I was mesmerized with the result!  My skin looked flawless and didn't look or feel like I was wearing makeup at all! I decided to learn how to custom blend foundations and after four years of using this product and blending part time, I made the decision to leave my job and start Customized Cosmetics by Ashley.
Every face I blend is like a blank canvas and I paint with mineral liquids and powders. My goal is to create a natural "everyday look" for my clients. I begin with a customized foundation consult ($20) which includes a sample so you can try your foundation for a few weeks. Once your blend is perfected I enhance features with other customized products for the eyes, lips and cheeks. All products can be customized with SPF, hydration, oil control and even anti-aging benefits to firm and lighten
dark spots.
What sets Customized Cosmetics by Ashley apart from other lines?
1. Exclusive – No one else has the exact same skin as you, why use a one-size-fits-all foundation? You can't buy a customized foundation in a store which means your makeup isn't sitting on a shelf collecting bacteria or expired.
2. Your foundation changes with your skin – When you lose your tan this fall and your skin becomes dry in the winter, I will adjust your blend so you don't have to throw out your "summer blend" saving you time and money while making sure your changing skin gets the attention it needs.
3. Ingredients – Customized Cosmetics are all-natural, oil free, talc free, fragrance free, non-comedogenic, gluten free, cruelty free and paraben free! A Custom Blend doubles as a treatment. You will notice your skin becoming healthier the longer you wear your blend!
4. Professional – Color matching is a trained skill, if you are unsure if your foundation matches, chances are, it doesn't and you are walking around with the dreaded foundation line! Trust a professional!
5. Convenience – You're already going to the salon to get your hair and nails done, let me complete your look with a flawless face. No more guessing if the color you see in the store will really match you or work with your skin, book a consult today!
Testimonial:
"I stopped wearing foundation about 3-4 years ago for a few reasons but mainly because I couldn't find a match (even with 'perfect' match colors) and my skin never felt clean after removing the foundation. Since I've started wearing the foundation from Ashley, I've become a believer of the line. Not only is the color perfect but my skin remains clean feeling before and after makeup. Plus, the breakouts on my skin have lessened dramatically. I am beyond pleased with the results and would recommended it to anyone!"                   ~ Kate H