Creating Fabulous Food For Everyone
|
By Kelly Bachman
Crispy Brussels sprouts with lemon parmesan citronette, braised bison short ribs tagine, cider-glazed salmon with a maple-green chile vinaigrette – what do all of these tasty dishes have in common besides the ability to make my mouth water? All are gluten-free menu options available through Jamestown Hospitality Group (JHG), which owns Park Cafe and Tonic Seafood & Steak in Wilmington (among other upscale nightlife and restaurant venues in DE, PA and MD). And they're certainly not your grandma's gluten-free options from the latter half of the 20th century. 
Gluten-free foods used to have a bad rep for being flavorless, with an "off" texture, but in recent years skilled chefs, manufacturers and food industry leaders have found creative ways to make gluten-free not only delicious, but desirable for consumers. And the fan-base is expanding. According to a recent survey by CivicScience (Collins, 2022), nearly a quarter of U.S. adults avoid or limit gluten for either medical or non-medical reasons. 
But whether you eat gluten-free out of necessity or desire, JHG wants all of their guests to finish their meal feeling satisfied and focus on what's in their food (a TON of flavor), not what may be left out. 
"Every guest who walks into one of our restaurants – or who partners with Jamestown Catering, our full-service catering and event planning company – should have the opportunity to enjoy food they love," said Patrick Bradley, Executive Chef. "Gluten-free, vegan, vegetarian, our menus reflect a commitment to providing everyone with high-quality food that tastes as good as it looks and leaves them eager to dine with us again."
All of the current entree options at Tonic Seafood & Steak are gluten-free, as are several of their appetizers. Looking for a quick snack? Pop in to Park Cafe, where you can enjoy their white chicken chili or steakhouse salad, among other gluten-free options. Have an upcoming family gathering, celebration or corporate event and want to make sure the menu addresses dietary restrictions? Jamestown Catering will use fresh, seasonal ingredients to create a menu that matches your vision, style and budget.
So, whether you must be gluten-free or are just a glutton for good food – Jamestown Hospitality Group has exactly what you're looking for. 
Collins, J. (2022, December 7). Interest in Gluten-Free Foods Is Hot Among Gen Z Consumers and QSR Diners. CivicScience. https://civicscience.com/interest-in-gluten-free-foods-is-hot-among-gen-z-consumers-and-qsr-diners/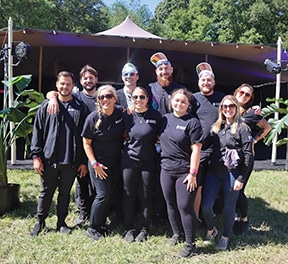 About Us
Jamestown Hospitality Group is a Wilmington-based hospitality & event company with a diversified portfolio of upscale nightlife & restaurant venues. Longtime friends Chris Blackwell and Paul Bouchard established Jamestown Hospitality Group in 2015. Their vision was born out of a need to bring high-quality service to the Wilmington, Delaware area. With a commitment to excellence, passion, relationships, ownership, and a team-centered work environment, our group is able to provide world-class service to our customers.
Want In on A Secret?
The Seared Chickpea Cakes at Tonic Seafood & Steak are a customer favorite and – you guessed it – gluten-free (and vegan!). They won't share the exact recipe, but here's a copycat version you can make at home. 
Ingredients:
2¾c. chickpeas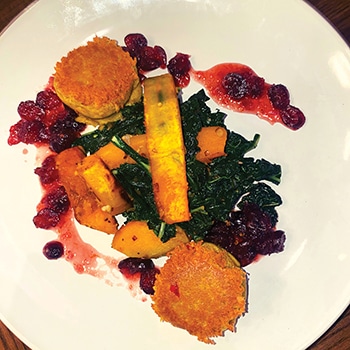 2t. yellow curry powder
½t. chili oil
1c. dry basmati rice
⅔c. coconut milk
⅔c. zucchini, diced small
⅓c. yellow squash, diced small
2T. red onion, diced small
1t. fresh ginger, grated
1t. garlic, minced
1t. shallot, minced
2T. lime juice
2t. salt
½t. pepper
¼c. rice flour
Directions: Preheat oven to 400. Toss chickpeas with chili oil and curry and roast for 15 – 20 minutes. Cool. Cook the basmati rice with coconut milk until slightly overdone. Cool. Sauté zucchini, squash, red onion, ginger, garlic and shallots until soft. Cool. Once everything is cooled, place veggies in a large mixing bowl. In a food processor or blender, puree ¾ of chickpea mixture and add to veggies with remaining ¼ of chickpeas. Puree all of the basmati rice and add to the mixture. Add remaining ingredients and combine. Form into 3 oz. patties and sauté in a pan until golden brown.
Jamestown Catering 2510 W. 5th Street in Wilmington (302) 510-8071
Park Cafe 2510 W. 5th Street in Wilmington (302) 543-2233
Tonic Seafood & Steak 111 W. 11th Street in Wilmington (302) 777-2040