Coping With Common Issues Associated with Aging
|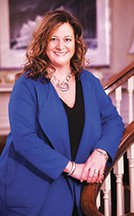 By Kristin Stetler Donovan, Owner, Age Advantage of Newark 
We all know that, as a result of technology, new medications, and surgical techniques, people are living longer. Despite that, the body we had at 55 will be very different from the body we have at 75, not to mention the many genetic and environmental issues that impact how we age.
The most common issues with those 65 and older include arthritis, heart disease, stroke, cancer, pneumonia and the flu. Accidents—especially falls resulting in hip fractures, arm injuries, and mobility issues—have a significant impact on the elderly. All of this can make it very difficult for seniors to live an independent life without some assistance.
A significant number of seniors are coping with at least one of the following conditions, and many are dealing with two or more:
Heart conditions (hypertension, vascular disease, congestive heart failure, high blood pressure and coronary artery disease)
Dementia, including Alzheimer's disease
Delirium
Depression
Incontinence (urinary and bowel)
Arthritis
Osteoporosis
Diabetes
Breathing problems
Frequent falls, which can lead to fractures
Parkinson's disease
Sleep problems
Cancer
Eye problems (cataracts, glaucoma, Macular Degeneration)
Weight loss
As the body changes, many other things can occur as well. Slowed reaction times and sometimes cognitive decline can impede memory and may severely affect one's ability to drive safely. Also, seniors develop thinner skin, which can result in tears or wounds that heal very slowly.
Even one's environment and surroundings can have an effect on seniors, possibly resulting in a decreased immune system and hindering their ability to fight viruses, bacteria, and diseases. They may also suffer from a diminished sense of taste—especially for those who are smokers—which can lead to diminished appetite and dehydration.
These issues may seem daunting, but with proper care and support seniors can lead a life filled with joy.
According to AARP, "Many seniors plan to 'age in place' – Approximately 90 percent of seniors intend to continue living in their current homes for the next 5 to 10 years – Of these individuals, 85 percent are confident in their abilities to do so without making significant modifications to their homes."
Unfortunately, AARP also reports that "Many seniors find it difficult to live independently – Although 65 percent of seniors between the ages of 60 and 70 find it very easy to live independently, among those aged 70 and older, only 43 percent find it very easy – Nearly two in 10 Americans aged 70 and older say they either can't live independently and accomplish daily tasks without assistance from caregivers or community resources or find it difficult to do so."
The question asked by many seniors is: "What do I do if I want to stay at home and maintain the highest level of independence?" Also, "What do I do if I need more support in an Independent Living or Assisted Living community?"
That's where the assistance of in-home caregivers is such an asset. The things that are no longer safe or that an individual is no longer able to do on their own become possible with the help of a caregiver. Caregivers assist with many things, including bathing, dressing, laundry and light housekeeping, as well as transportation for individuals so that they can maintain a lifestyle more similar to what they are accustomed. Seniors have the ability to get out and be social with the safety and supervision of their caregiver, who often times becomes more of a friend and companion.
On a daily basis, the staff of Age Advantage encounters seniors who are dealing with a multitude of issues, as well as those who just have some basic needs to be met in order to maintain a sense of independence. It is our mission to provide affordable home care for you and your loved ones. Our care services will be individually designed to not only maintain your current lifestyle but to enhance it. Helping you remain independent within your own home is our priority. We will provide you and your family with the best service possible and we will always be only a phone call away, 24 hours a day.
The most important thing that we can do as we age is to become informed and know what our options are. In particular, if your desire is to stay at home with the assistance of caregivers, know that you can consult with the director or the members of the Age Advantage staff to discuss options and also find out what other resources may be available to assist you. Please call (302) 722-8240 if you have any questions or would like to arrange a consultation.
Testimonial
"I wanted to reach out to thank you for everything you and your staff did for my father. Including you, Charlie, Nenah (the caregiver) and your staff, my father was always treated with respect and everything was handled so professionally. As you can imagine these were some of the toughest times we've had to deal with, and knowing that we could rely on a good company, with good workers, with an owner who genuinely cared, gave us such peace of mind. Finally we will definitely refer you to anyone who might be in need of your services in the future." – Marty