Combating Delaware's Drug Epidemic
|
A Guidebook Offering A Cutting Edge Approach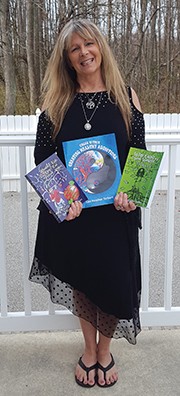 Lisa Heather Torbert: Author, Counselor, CADC, Hypnotherapist, Holistic Health Specialist, and Owner  of Heather's Holistic Health.
With over 600 babies born addicted to drugs and alcohol, and 308 fatal overdoses in 2016, it is an understatement that we are losing ground in our battle against addiction. Unfortunately, large drug busts and prison time are not helping. National statistics show that deaths from overdoses on prescription opiate drugs were 18,893, almost double that of heroin at 10,574.
Lisa Torbert has just published her third book "Urges Within – Creating Healthy Addictions" which is a revolutionary new way to look and learn about addiction. Her book will teach the science of addiction, the reason why we are addicted and how to control those daily pressing urges. Unlimited free hypnosis is included to further help with cravings and relapsing.
Lisa's darker days, growing up in an addiction family, molded her into the selfless giving careers of a Counselor and Hypnotherapist. She has overcome tragic lifelong sickness, healing from emotional illness and 18 different physical diseases/disorders. She has also earned the title of "addict" and understands the emotional complexity and physical cravings of addiction.
It's no wonder that Lisa associates mind alternating days with Alice, "as we disappear down our black rabbit hole into the discovery of our bizarre lives. We try potions that say 'drink me' and poisons that say 'eat me' that keep us lost in a very strange world. Our self-esteem shrinks our souls and we drown in a pool of tears, splashing helplessly and feeling hopeless."
Lisa takes us on a journey through the land of addictions with her workbook  – mixing facts and statistics with pictures, songs, fun facts and humor – all written in today's plain language. It offers a set of questionnaires designed to teach you about your unique self in a more interesting way. She looks at the positive side of addiction, instead of an association to the "family of oholics." Her book helps Chemically Addicted People (CAPs), find their dominate neurotransmitter deficiency, located in our brain's pleasure center; dopamine, serotonin, GABA, norepinephrine and or endorphins. "Everyone has a different blueprint and perhaps you did not choose your addiction, but it chose you. To maintain and improve our deficiencies, we need supplements, a deficiency-boosting diet, addiction shakes, amino acids, healthy activities, and finding our creative spirit to help boost our deficiencies," Lisa says in her new book.
"It's never too late to see through the looking glass as we take our one way ticket out of our psychedelic trip and turn fantasy into a reality.  We march to the beat of a different drum, jazz up our life and stop playing the blues.  We are "rockin' our recovery!"
Since her husband's recent diagnosis of a high-risk form of blood cancer called Myelodysplastic Syndrome (MDS) requiring a bone marrow transplant, Lisa's 4th book is already underway.  It focuses on her collected research on Cancer healing, combining western and eastern techniques.
All of her books can be purchased on Amazon and Kindle.