Choosing the Perfect Counter Top
|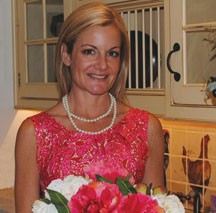 Katy Wolfington, President
Soapstone
Soapstone has a fabulous natural grey color that ranges in tones from light to dark with subtle veining and a smooth matte feel.  It is resistant to etching from acids, highly stain and bacteria resistant and it is not as harmful to the environment as other quarried stones. Soapstone does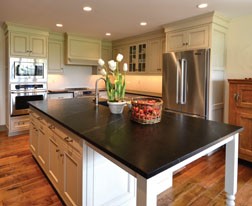 need regular maintenance, may crack, chip and scratch, however scratches can be easily sanded or oiled away. Unlike other natural stones, it does not require yearly sealing but regular applications of mineral oil will help to disguise any surface scratches, add sheen and deepen the stone's color over time.
Marble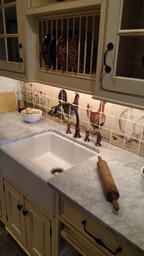 Marbles come in a variety of colors and patterns and is a choice of many for their countertops. Marble has a smooth surface that won't chip or dent and is heat-resistant. The downside of marble is that it can be scratched or etched by acids (citrus, coffee, alcohol, some cleaning products) even if you seal it. But if you are vigilant about spills and seal your counters a few times a year (you can do this yourself with a simple spray product) marble is a good option.
Polished Granite
More durable than marble, granite won't scratch, is resistant to stains, heat and water if sealed. Granite is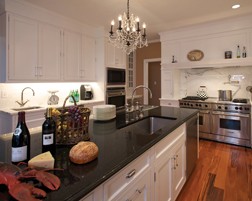 low-maintenance, has a high resale value, and there are a lot of color options. Granite does require resealing about once a year with a natural stone sealer you can purchase at most hardware stores.
Honed Granite Countertops
A twist on popular polished granite, honed granite gives a soft, matte finish instead of the traditional shiny look. Honed granite is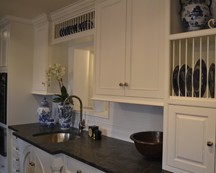 just as resistant to scratching, chipping, cracking and heat as polished granite, making it one of the most durable kitchen countertop options around. Like polished granite, it does require resealing about once a year.
Zinc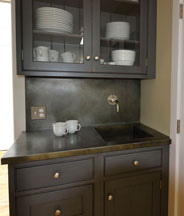 Zinc is a reactive metal with a living finish that will acquire a patina and change with age and use. This patina will continue to evolve throughout the lifetime of the product. Imperfections, including slight scratches, pinholes, and soldering marks can be expected on your zinc countertop. They help create the charm of this rustic metal. Windex or mild soap and water are recommended for daily cleaning and wipe up all liquids with paper towels. Many owners choose to let a patina develop on zinc. This enhances the "industrial" or "country" flavor of the countertop.
Wood/Butcher Block
Wood countertops give off a natural beauty that is versatile to fit nearly any style whether it be traditional, modern or rustic. There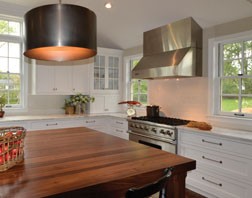 is a variety of ways wood countertops can be constructed which contributes to its versatility of looks such as flat grain with wider planks, edge grain with narrower board widths and end grain chopping block. The look and feel is also determined by the wood species chosen (Cherry, Walnut, Maple, Rustic Pine, Reclaimed Chestnut etc.). With wood countertops, you do need to know the cons. They can easily be damaged by burns, dents, spills and scratches and they require a food-safe protective sealer.
Engineered Stones (CaesarStone, Silestone, Cambria, etc.)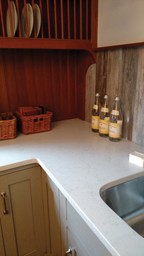 Engineered stones have become a very popular choice of countertop material. They are nonporous, resist scratches and stains, easy to maintain, and no sealant is required. They have the looks of natural stone (it's at least 90% quartz) but can be mixed with pigments for custom color. There are many different brands and a wide variety of colors and patterns available.
"Waterbury Design offers expert design and quality craftsmanship from start to finish. The staff takes price in their work that results in a beautiful product. Katy listens to her customers, producing a design project that compliments and enhances our home."  ~ Marie D.
"My kitchen and master bath have both been redesigned by the team at Waterbury. I am an avid reader of Houzz and home magazines and Katy and her team took my initial ideas and wish list and turned them into beautiful, functional rooms that elevate the spaces. I enjoy every minute cooking and entertaining in my kitchen/gathering room or pampering in the bathroom. Many thanks to the team at Waterbury who were great to work with and deliver above and beyond expectations."   ~ Fiona K.
If you would like our help in designing the bathroom or kitchen of your dreams, visit our website at www.waterburydesign.com, call us at 610-444-9190 or visit our showroom at 818 East Baltimore Pike in Kennett Square, PA.