Change Your Mindset, Change Everything!
|
By Ashley Sachs
Cecilia McCloskey is an inspiration. She placed 4th in the 1968 Olympic Trials. She swam in the Pan American games in 1967 and swam 23 miles in the "Around The Island Swim" competition of Absecon, NJ. The most inspiring aspect of her career however, is the fact that she is still competing at age 68 and at times against women 20 years younger than her!
Swimming has kept Cecilia in tip-top physical condition her whole life and she is a poster girl of how to defy aging but still admits, "exercise is great for your body, but there is only so much you can do for your face, and as we all know our features fade as we age."
Traditional makeup is just not an option in swimming. During a meet you're in and out of the pool the entire day. You're soaking wet "like a drowned rat" and there's not much that can be done as far as enhancing your appearance when you're swimming, for better or worse, you're all out there. And although Cecilia could physically compete with women 20 years younger, she felt that her fading facial features gave her opponents an unfair advantage . . . confidence. Age is a mindset and Cecilia "didn't want to feel old when I was out there on the podium next to women in their 40s and 50s," but Cecilia didn't know what to do.
One day Cecilia was getting a facial from her Esthetician and mentioned that the ends of her eyebrows had disappeared due to Graves' Disease, a hyper thyroid issue. Her Esthetician (who Cecilia has been loyal to for years) recommended her to Carmella Schultz, a Permanent Cosmetic Artist that she had never met, but knew of her work and of her impeccable reputation in the industry.
Cecilia set up an appointment with Carmella to discuss her disappearing eyebrows and was immediately put at ease. During their consultation, Carmella learned about Cecilia's swimming career and her beauty goals and recommended Cecilia get both permanent eyebrows and permanent eyeliner. "Carmella is reassuring, confident and calming. She didn't want to do too much knowing that she could always do more, although it was perfect after the first visit! I went home and told my husband I wish I had done this 20 years ago!"
"Having my makeup done permanently not only makes life simpler, but it changes my mindset when I'm competing against much younger women, I don't feel old."
When we asked Cecilia if she thought her permanent cosmetic procedure hurt, she joking responded, "the pain is nothing compared to a 400-meter individual medley race!"
You may not be a competitive swimmer, but every woman deserves to wake up looking and feeling her best and Permanent Cosmetics is a guaranteed solution!
Carmella Schultz is celebrating her 20th year Anniversary this year and to celebrate is offering 20% OFF ALL PROCEDURES! If you've been thinking about Permanent Cosmetics, remember Cecilia (as well as almost every client that walks out of Carmella's studio), you will have wished you did it years ago!
Visit our website www.permanentu.com for more information or call or text us at 610-883-0636 to set up an appointment. You can also email at [email protected]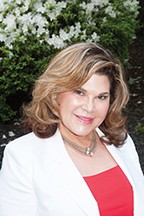 About the Artist
Carmella Gibellino-Schultz is a licensed cosmetologist and has been practicing the art of permanent cosmetics since 1999. In both Delaware and PA she has performed thousands of procedures and her impressive portfolio speaks for itself. Former owner of The Skin Care School and Center, her expertise and years of experience have made her the areas most sought after permanent cosmetics artist.
Abel M.D. | The Abel Center for Oculofacial Plastic Surgery
Fanny J. Berg M.D.
Peter R. Coggins M.D.
Joseph J. Danyo M.D.
Jillian Banbury M. D.
Ian M. Longergan, D.O. | Aesthetic Plastic Surgery of DE
Timothy Greco M.D.
Monica Mehring M.D.
Jonathan Pontell M.D.
Katheryn M. Warren M.D.
David Zabel M.D.
Jeffrey B. Minkovitz M.D. | Eye Physicians & Surgeons
Peter Panzer M.D. | Panzer Dermatology Assoc.
Paul Sabini M.D. F.A.C.S.
Jonathan Saunders M.D.
Paul S. Kim, M.D.
Gary F. Wingate, M.D.
M. Stefanyszyn, M.D. F.A.C.S. | Wills Eye Hospital
Lynn Esdale RN | Lynn Victoria Cosmetic & Medical Skin Care
Lisa W. Hostetler M.D.
Sarah Lester, Medical Aesthetician Delmar Surgical & Cosmetic Treatment Center.
Carol J. Hoffman MD | Kremer Eye Center