Candy For All Occasions – Customized & Personalized
|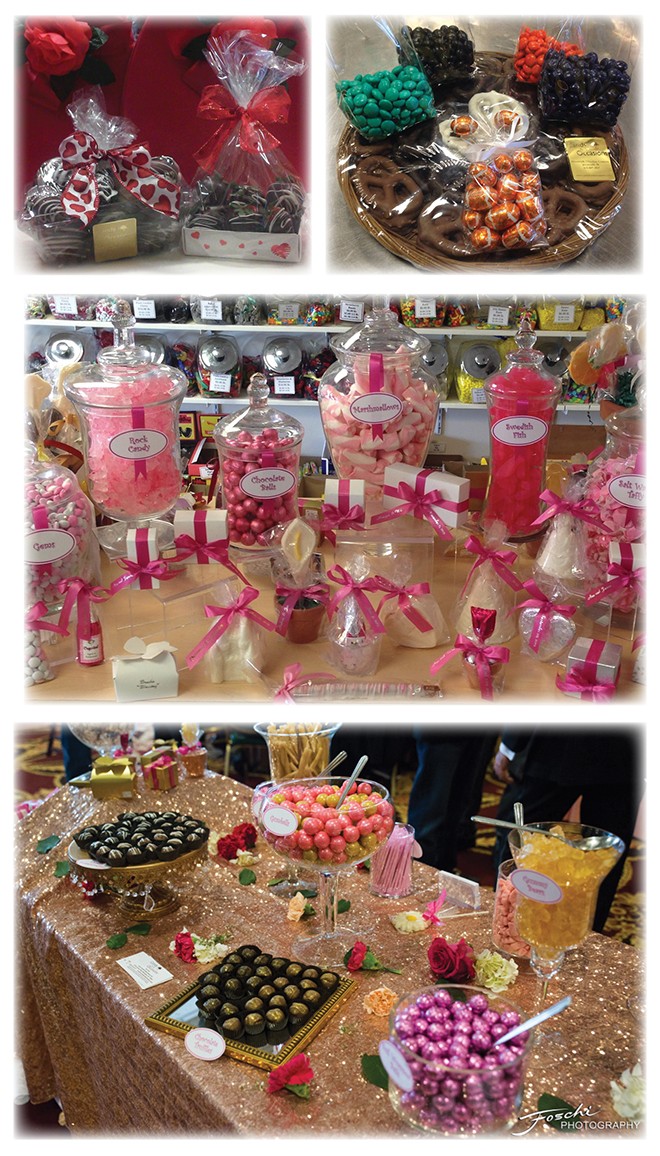 Step into Candy For All Occasions and take a walk down memory lane. This quaint, cozy sweet shop located in Fairfax Shopping Center is loaded with old time favorites like wax lips and candy necklaces, as well as the latest trends including giant gummies and super sour confections. A great stop for a special reward.
Chocolate is what we do best. Our candy cases are filled with a variety of homemade truffles, creams, and clusters. Create any size box filled with only your favorites. Speaking of favorites, our tables are stocked with chocolate covered pretzels and cookies as well as several varieties of barks and fudge.
Pair our homemade treats with our delicious variety of nuts and dried fruits to create the perfect gift basket for any occasion.
We are experts at packaging a wide variety of products to provide a unique and personalized gift. Whether the gift is to say "Thank You," "Get Well," "Happy Birthday," "Congratulations," "Happy Anniversary," or to wish condolences, we have the appropriate packaging at the appropriate price. We have thousands of molds to create favors for every event or special occasion. Wrap it up with a personalized ribbon engraving commemorating your occasion.
Corporate Gifts or Special Events:
These are our specialty! We have a large selection of industry specific chocolate molds. Additionally, we have the capability to engrave ribbons or boxes with a special message or your company logo. Contact us for details and price quotes.
Free Engraving:
We engrave ribbon free of charge upon the purchase of 25 favors. To purchase engraved ribbon only, a minimum of 50 must be purchased at a cost of $0.25 per ribbon.
Not a fan of candy? Stop for a frozen treat. Choose from 17 flavors of Bassetts Ice Cream, 19 varieties of Georgeo's Water Ice, or Turkey Hill Soft Serve.
Follow us on Facebook or Instagram to take advantage of our daily specials.
Testimonial:
"I love this store. Not only do they have wonderful candies and nuts, but when I need something special for a gift they always exceed my expectations." ~ P.R.
Fairfax Shopping Center
2215 Concord Pike
Wilmington, DE 19803
302-654-9171