Are you ready to lose weight…for good?
|

Dr. Heather Rooks, DC
Have you tried and tried and tried before, only to be frustrated that the pounds you shed came back just as quickly after you finished the newest miracle diet plan? Anyone who's ever tried to lose weight knows it is anything but easy. Stop guessing and find out through sophisticated tests what is keeping you from achieving your goals. If you are ready to learn the true "Secret" of permanent weight loss; break the cycle of weight loss and gain; stop wasting your valuable resources of time and money, while achieving optimal health… call us now!
At PATH INTEGRATIVE HEALTH CENTER, we will help you to better understand the unique challenges you face in terms of your physiology, eating habits and lifestyle and develop an implementable action plan to help you achieve your short term, long term and stretch goals.
This is achieved through the following:
A comprehensive, multifactorial clinical assessment
A lifestyle assessment
An evaluation of your eating habits
Necessary metabolic testing to find out root cause your weight loss challenges
A body composition assessment
Development of short-term, long-term, and stretch goals
Plan implementation, which includes a diet, fitness and nutriceutical regimen to meet your goals.
Our approach is simple:  One size does not fit all when it comes to health optimization and ultimately, weight loss.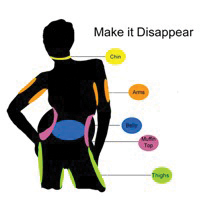 To maximize progress with your personalized assessments, goals, and health optimization plan we have options for the most success included adding LIPO LIGHT SCULPTRA BODY CONTOURING.
Our Sculptra Body Contouring program is like no other body sculpting on the planet! The PATH Integrative Health Center's Sculptra program is proud to use the Innovate Photonics Lipo-Light, that uses light of a specific wavelength (635nm.), that has been shown in studies to stimulate the removal of fat from adipocytes (fat cells in doctor terms)!!!!! The light emitted from multiple L.E.D.s in our units that have 10 treatment paddles that assists with Spot Fat Reduction, Inch Loss and Body Contouring of the abdomen, love handles, thighs, hips, back, and chin. It will put the finishing touches on all of your hard work to reshape your body!
I've tried everything. Can your Sculptra program really help?
This new technology gives you hope. Have you felt frustrated you haven't lost those 1-5 inches – dieting and exercising? Lost hope? When you see the fat come off quickly, you will have hope and be more inspired to make the changes you know you should be making; not to mention the health benefits of losing weight.
~Hope for people who exercise and eat right, but still have problem areas. Sculptra can spot reduce trouble areas.
~Hope for people who diet and exercise, but still can't lose weight, leading to loss of motivation.
~Hope for people with cellulite to smooth out the skin
The Sculptra body contouring program can help you:
Reduce Fat
Lose Inches
Reduce Cellulite
Spot Reduce
Chin "Tucks" with chin fat
Eliminate Muffin Tops Easily and Effortlessly
What are my alternatives?
Lipo Suction Surgery
Cost – $4,500 to $10,000 w/ 1 week off work for recovery
Follow up skin removal surgery – $2,000
Fat gets stored in weird places after lipo
Risks- From scarring to death
Some cannot even do it because of meds
Lumpy and choppy results
Lap Band – Similar risks and cost to lipo – but no guaranteed results, you still have to eat less and exercise
Gastric Bypass – Similar risks and cost to lipo – but you have to eat A LOT less, and if you don't, you could literally die from over eating.
Dangerous Drugs – Similar risks to lipo –  w/ possible side effects! EVERY SINGLE DRUG that has ever been FDA approved, and been on the market long enough, has been riddled with long term side effects, not known when the FDA first approved it and some pulled from the market.
I'm Interested in Learning More … What Do I Do Now?

As senior clinic director, Dr. Rooks is skilled and experienced at treating the root physiological, biochemical, and hormonal imbalances associated with Type 2 Diabetes and with Hypothyroidism.
Dr. Rooks uses breakthrough diagnostic testing and analysis that's rarely done in conventional settings, to uncover the hidden, underlying causes a person may be experiencing from Type 2 Diabetes and Hypothyroidism. She also takes great pride in delivering personalized healthcare treatment to patients as well as providing an environment that supports and inspires patients to reverse their poor health. Dr. Rooks graduated from the University of Delaware, with a BA in Biology and has a Minor in Women's Studies.  She attended Life University for her Doctor of Chiropractic degree, and has extensive Postgraduate education in Functional Endocrinology.Outside the office, Dr. Rooks enjoys being with her Cream French bulldog, Romeo, traveling and consciousness raising activities, spiritual retreats and humanitarian mission trips.  She also loves Yoga and any kind of fitness.
Complimentarty Consultation With The Doctor To Discuss Your Health FutureCall 484.775.0550
Dr. Heather Rooks, DC
PATH Integrative Health Center
Suite 3, 98 Wilmington-
West Chester Pike (Rt. 202)
Chadds Ford, PA 19317
484 775 0550
[email protected]
www.PathHealthCenter.com