Adult Day Care Keeping Seniors Active
|
By Natalie Scott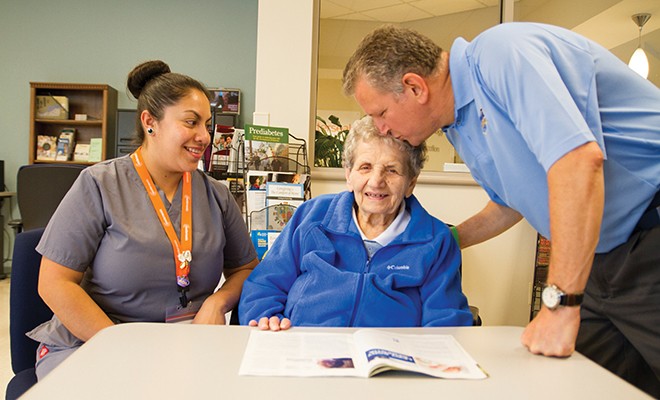 When Gabe's mother, Rita, fell at home, he knew it was time for her to move in with him, but he also knew it was important to keep her active. After considering all of his options, he found that the Easterseals' adult day  services were the absolute best fit for his family.
"I researched everywhere and no one compares to the services Easterseals provides," Gabe says. "The staff is phenomenal. They do an excellent job of keeping my mom stimulated and motivated."
Easterseals adult day care services provide support for adults, young and old, who have experienced a disabling condition such as Multiple Sclerosis, stroke, brain injury, other physical limitations and conditions of aging. Transportation and meals are provided. The program provides a break from caregiving for families or those who work and have other responsibilities.
A full-time nurse provides medical support including monitoring of blood pressure and blood sugar, coordinating with physician offices and arranging appointments. The nurse acts as a liaison between participant families, case managers and other health care providers. If needed, physical, occupational and speech therapies also are available on site through Easterseals, and can be added to the individual's personal care plan. In addition, trained staff are able to help all participants with activities of daily living and personal needs.
"Knowing my mom is safe, secure, well-nourished and engaged enables me to concentrate fully on my job and know she is being stimulated," Gabe says. "If my mom were at home she would be sitting on the sofa, but the staff at Easterseals keeps her moving and eating healthy."
Participants in the adult day program are encouraged to choose from a variety of activities such as arts and crafts, exercise, community trips, computer access and more. "My mom's favorite activity is going on field trips, especially when they visit Hodgson VoTech to get her hair and nails done. It makes my heart pitter patter when she gets home and says 'look at my nails' and she is so proud," Gabe says, "The field trips are so well managed and Easterseals has wonderful volunteers to help out."
Like all Easterseals services, adult day care services are comprehensive and individualized to meet each client's needs, family-focused to meet each family member's concerns and have the goal of enhanced independence. The adult day care program offers a break for family caregivers responsible for a relative who is unable to function independently, but does not require 24-hour nursing care.
For more information about Easterseals Adult Day Care Services contact Gwen Harris at 302-324-4444 or [email protected].
For more information about all Easterseals services call 800-677-3800
Easterseals is located at 61 Corporate Circle, New Castle, DE 19720