A Wish Come True: The River Soccer Club
|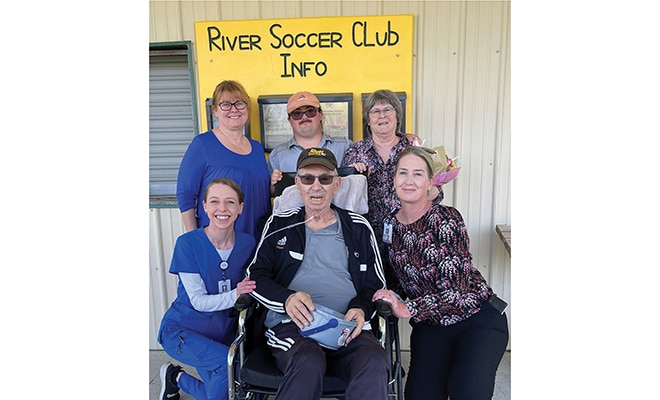 "As the sounds of the Shofar reverberated through the clubhouse and onto the soccer fields, Mr. Gerken's eyes sparkled as he witnessed one of his final wishes come true."
Presented By Nicole Fullmer, Delaware Hospice
When Howard Gerken, a Delaware Hospice patient, shared a special wish with his Social Worker, Jessica Livingston, Jessica jumped into action. Mr. Gerken, a resilient man who has endured the past 20 years with Parkinson's disease, mentioned that he wanted to see his beloved River Soccer Club, an organization he played an integral part in founding in 1996.
Jessica emailed several Delaware Hospice colleagues who immediately arranged a special transport and contacted the River Soccer Club for more information about this incredible man. Within a few hours, plans were made and a date was set: April 11, 2023.
April 11th turned out to be a gorgeous day filled with sunshine, a calming breeze, and a wish come true for Mr. Gerken. When his ambulance transport arrived at the River Soccer Club around 1:30pm, children's laughter could be heard on the adjacent soccer field where over a dozen young athletes were practicing their drills. As Mr. Gerken descended from the ambulance in his wheelchair, he was greeted by an entourage of people; his immediate family, his Delaware Hospice care team, and numerous friends from "the Club" who wanted to celebrate this amazing individual.  
Mr. Gerken's beaming smile dwarfed the sunshine as he took in his cherished soccer fields, the newly renovated clubhouse, and "Gerken's Garage," the building that houses grounds keeping machinery, named in his honor. Mrs. Gerken chuckled as she announced, "He's been up since 4am thinking about today!"  
According to Rebecca Mais, President of the River Soccer Club, "Howard has influenced thousands of young people in this area, not only through soccer, but as an educator." He spent 30+ years as a teacher and administrator in the Indian River School District, beginning his career in 1968.  During his tenure, Gerken served as the Principal at Selbyville Middle School and Sussex Central High School.  
Mais went on to say, "River Soccer Club would not exist today if it were not for Howard. Every year River Soccer provides opportunities for young people in this community to learn and just have fun playing soccer. We are eternally grateful for this great man."  
Since the organization's inception, it has grown from three teams and 48 players to 15 representative (travel) teams and about 600 players. Even Howard's wife has been part of the history, having started the TOPSoccer program for children with disabilities.  
After an hour breathing in the fresh country air, everyone settled in to the clubhouse for an intimate ceremony performed by Brett Buchler, a local author, surfer, and Christian Minister. Mr. Buchler, a friend of the Gerkens, shared several of his Shofars (ram's horns) and explained the deeply spiritual meaning behind their powerful sounds. To conclude the ceremony, Mr. Buchler sounded one horn of particular importance, the horn of healing and victory.  As the sounds of the Shofar reverberated through the clubhouse and onto the soccer fields, Mr. Gerken's eyes sparkled as he witnessed one of his final wishes come true.
Find out how Delaware Hospice can help you and your loved ones live comfortably. Visit us at www.delawarehospice.org or contact us at 800-838-9800.