A Way To Better Health
|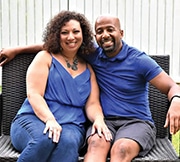 By Cecile S. Gibbs, MPT
With the specialty of the Gibbs Pelvic Health Physical Therapy, LLC clinic being pelvic centered, we paired that structure with the shape of butterflies for our logo. Butterflies are a symbol of resurrection. They often represent endurance, change and hope associated with transitions or rebirth of lifestyle. The three lines represent the goals of GPH: to serve, to rehabilitate, and total care of the patient (both women and men). These lines wave upwards indicating the patient's transition to better health. 
GPHPT treats pelvic related concerns such as, but not limited to, pain in the low back, abdomen, or hips, bladder and bowel control, pregnancy related concerns pre & post natal, DRA, sexual health concerns, recovery from trauma or surgery, SI joint issues, and prolapse.
Bio
Cecile S. Gibbs, MPT is an intuitive and caring clinician. With over a decade and a half of pelvic health care experience, Cecile's career has been spent treating and educating her community on Women's and Men's health. Her care philosophy is rooted in the belief that caring for the patient's physical, mental, emotional, and spiritual state is vital to successful intervention and the return of a patient to their highest level of function. When not at work, Cecile spends most of her time wrangling her two boys, loving on friends and family, and being a foodie with her fabulous husband. In addition, she leads her team of Mary Kay Independent Beauty Consultants at the Honeycomb Center in Elkton, MD.
Gibbs Pelvic Health Physical Therapy, LLC
410-449-3049    Newark, DE