Making Way For What Matters Most
|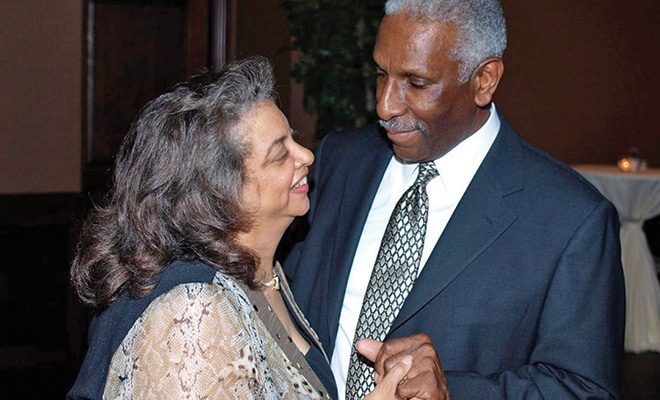 "As soon as we walked in the door (of the Delaware Hospice Center), he said 'Wow! This is like staying at the Ritz-Carlton!' He was treated with the utmost respect and dignity. I couldn't have asked for anything more."  ~ Miki Dash-Wilkinson
Presented By Taylor Davis, Delaware Hospice
Mother's Day, 1970. It's a day Miki Dash-Wilkinson will never forget. It's the day she first met Danny.
Miki's friend was working at a "cocktail sip" organized by Danny's brother's social club, and Miki had tagged along to keep her friend company. It was there that she was destined to meet the man who would become her husband for the next 42 years.
In 1972, Miki and Danny were married, and the rest was history…until Danny got sick.
The couple was living in New York when Danny first fell ill. Initially, they sought treatment, but eventually decided Danny should leave the hospital for more specialized end-of-life care. Miki and Danny's son Mark, a doctor at Beebe Hospital in Lewes, made arrangements to move Danny to Delaware.
Danny enjoyed his final days close to his family and friends in Delaware at the next best place to his own home, the Delaware Hospice Center in Milford. At the Center, he received the same compassion and expertise we offer to individuals in their own homes across the state of Delaware and in southern Chester and Delaware counties in Pennsylvania.
No one is ever ready to say goodbye to a loved one, let alone their spouse of over 40 years. But when the time comes, hospice care can play a critical role in assuring that the journey is as positive as possible. We work with you and your family to coordinate all of the resources you need—so you can focus on your time with each other instead of stressful details.
"Danny was so lucky to have his final days at the Delaware Hospice Center," explains Miki. "As soon as we walked in the door, he said 'Wow! This is like staying at the Ritz-Carlton!' He was treated with the utmost respect and dignity. I couldn't have asked for anything more."
The Center blends state-of-the-art technology with specialized, expert care in a comfortable, spacious, and home-like setting. When we're not facing a pandemic, the entire family is even welcome—including pets. We even have space for the kids to play!
Miki remembers how one day the nurse asked Danny what kind of music he enjoyed, which happened to be jazz. After searching for some jazz she could play for Danny, the only jazz the nurse could find was Christmas music. But Christmas was Danny's favorite holiday. The music was a hit!
At Delaware Hospice, we know it's the little things that make a big difference. Whether it's freshly baked cookies made by our wonderful volunteers, or a simple hand massage, our team goes above and beyond, keeping people in the comfort of their own homes and freeing families to focus on what matters most—like remembering chance encounters and first dates.
Find out how Delaware Hospice can help you and your loved ones live comfortably. Visit us at www.delawarehospice.org or contact us at 800-838-9800.