Making A Difference With Delaware Youth
|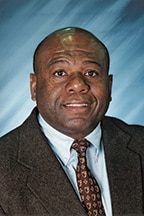 William W. (Bill) Collick
Pathways to Success, Inc. program serves students at Cape Henlopen High School, Milford High School, PolyTech High School, Seaford High School, and Sussex Technical High School. In 2008, the organization's Founder and Executive Director, Fay Blake, decided to pay it forward after a successful career in banking. The students served are identified as being at risk of not graduating. The organization has a 98% graduation rate and a 96% rate of placement in college, military, or full-time employment. Pathways creates positive change in the lives of these youth through coaching, mentoring, and raising community awareness.
Pathways to Success was given its first opportunity to offer their program at Sussex Technical High School. William W. (Bill) Collick was the Dean of Students at that time and he welcomed this new program to help students in need. When he assumed the Dean of Students position at Cape Henlopen High School, he again welcomed Pathways. Bill Collick understands the needs of these students and actively helps them, one-on-one. His coaching and mentoring carries on today.  
Bill Collick's legacy at Delaware State University includes the most coaching wins in the history of the Hornet's football program and a successful stint as the university's Director of Athletics. Under Coach Collick, a total of 63 Delaware State players earned All-American First Team honors; eight were named to various All-American teams and more than 20 signed professional football contracts. Additionally, some of Mr. Collick's former players have joined the ranks of high school and college gridiron coaches as well as careers in law enforcement and higher education.
Collaborating with his coaching staff and the DSU administration, Collick was instrumental in ensuring the vast majority of his players earned degrees. Also, an increasing number of Hornet players obtained advanced degrees during his tenure.
Fay Blake, Pathways to Success Founder and Executive Director says: "Mr. Collick's leadership as Pathways to Success Board President has helped the organization grow and support more students. From the initial one school in 2018 to the five schools we now have our program in, he has been so supportive. There are so many students he has mentored throughout the years that have reached success. Bill Collick understands the needs of these students and actively helps them, one-on-one. These are the underserved youth that everyone has given up on, the youth that have low self-esteem and low self-confidence, and the youth that have no hope. From his positions as Dean of Students to Coach to Pathways to Success Board President, he has made a difference in the lives of Delaware students. We both envision more Delaware students being helped through our program in the future."
Collick is well known for efforts on behalf of many charitable organizations, including United Way of Delaware, the Delaware Arthritis Foundation, Faith Elementary School, YMCA, Big Brothers of Delaware and the MERIT program. In addition to being Pathways to Success Board President, he is also a board member with the Cape Henlopen School District, Sussex County Habitat for Humanity and the Lewes Historical Society.
For more information about Pathways to Success, go to www.pathways-2-success.org or contact Sarah Gilmour, Outreach and Development Manager, at [email protected] or 302-381-1494.
302-858-4861