The Chamber Is All About Connections!
|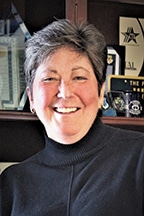 By Dr. Dina Carol Vendetti, CDCC President
People often ask me, "So, what does the Chamber do?" While I could elaborate for days about all that happens at the Central Delaware Chamber of Commerce (CDCC), I usually explain that "the Chamber works diligently to connect people." We connect people to information and education. We connect people to their legislators and encourage them to help influence business-friendly legislation. We connect people to a plethora of marketing opportunities. And finally, we connect people to each other!  
The CDCC orchestrates 75+ events and activities every year. These events are a large part of how we provide opportunities for connections. As people come together around a variety of topics for a variety of reasons, they connect with each other. And as they connect, they tell their stories. Often those connections develop into partnerships that lead to productive experiences of collaboration and growth. We LOVE when that happens! 
In addition, CDCC events and activities also give businesses prime opportunities for exposure. Seeing a business name over and over, hearing about what they have to offer, knowing they are a fellow Chamber member, and fostering a familiarity with potential clientele are just some of the benefits of sponsoring and participating in events.  
Communities are comprised of people who feel a strong connection to each other. The Central Delaware Chamber of Commerce feels proud of the connection we maintain with each of our members and the return on their investment that is realized through those connections. We are grateful for the role that our business leaders play in making Central Delaware a strong and healthy community.  
Are you a business leader looking for a way to connect? The CDCC has everything you need to make that happen. We invite you to learn more about what a CDCC membership could mean for you and your business. To learn more about the Central Delaware Chamber of Commerce, visit our website at www.cdcc.net or give us a call at 302-734-7513. We look forward to connecting with you!  
Central Delaware Chamber
www.cdcc.net or give us a call at 302-734-7513