Overcoming Fears & Finding Independence at Camp Fairlee
|
By Natalie Scott
When Gabriela "Gg" started attending Easterseals Camp Fairlee six years ago she was afraid of heights and a bit unsure of herself. As she stepped off the edge of the zipline climbing tower her heart was pounding, but as she flew through the air, all of her worries disappeared. After that first week of camp, she left knowing she was capable of so much more than she ever imagined.
"I feel free and safe at Camp Fairlee," Gg says. "Camp has given me a stronger sense of independence."
Along with the climbing tower and zipline, fifteen-year-old Gg, who has Muscular Dystrophy, enjoys meeting other children like her and competing in the pinewood derby during summer sessions at Camp.
"It is nice to meet other kids like you. I don't meet many kids at school that are like me. It is great to be able to talk to people that understand you and have similar experiences," Gg says. "I know I won't run into any accessibility issues at Camp Fairlee."
Easterseals Camp Fairlee is an unforgettable experience for people of all ages with disabilities. During a typical summer camp session, campers enjoy activities including horseback riding, walking nature trails, zip lining, swimming, canoeing, kayaking, arts & crafts, fishing and so much more.
While campers rely on Camp Fairlee for adventure and independence in a nurturing and supportive environment, parents/caregivers who need respite care depend on Camp Fairlee for high quality, professional services. Each year camp counselors receive intensive training to ensure the health, safety and well-being of the campers. 
"It is amazing how safe Gg is at Camp. We were nervous that we weren't there to help her, but when we dropped her off at Camp Fairlee, we recognized that everyone is trained. Camp Fairlee is a great opportunity to give kids a chance to do something they wouldn't be able to do otherwise," Gg's father, Brian, says. "Gg is now a great advocate for herself thanks to Camp Fairlee."
Give your loved one an unforgettable experience and take a break from caregiving by taking advantage of Camp Fairlee's week-long-summer-camp experiences, weekend respite program from September through May, Fairlee Vacation program and Daily Adventures program. Learn more about Camp Fairlee, which provides a typical residential camp experience for children and adults with disabilities year-round, at www.CampFairlee.com or by calling 410-778-0566. 
Along with Camp Fairlee, Easterseals offers a range of services. Please visit their website to learn more about our services for people of all ages and abilities:  www.de.easterseals.com.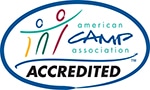 22242 Bay Shore Road, Chestertown, MD