Parents' To-Do List: #1 Is Estate Planning!
|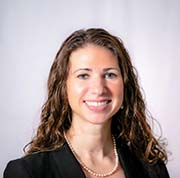 By Jaclyn Quinn, Esq.
Deputy Director at DCRAC
If you have young kids, take some time to plan now. 
As a mother of young children, I plan- A LOT. From the daily logistics to weekly meal menu to weekend activities, there is always a plan. I know how busy the day to day routine can be, and years fly by in a blink. Here is a reminder to all my fellow parents out there- take some time to do long term planning now, while you can. Planning for the future is the greatest gift a parent can give. As a bonus, ensuring that your finances and assets are protected, as well as the best interests of your child, will give you peace of mind. To quote Benjamin Franklin, "By failing to prepare, you are preparing to fail."
Estate Planning consists of taking an inventory of existing legal documents, thoroughly reviewing them, and making any necessary updates. No time like the present! The following are some things to consider.
An itemized list of all your assets
 

Physical and non-physical assets.

 

Noteworthy household items, such as collectibles or high-value objects.

 

401k, IRA, bank accounts, life insurance policies. If you've had job changes and now have multiple 401(k)s with past employers or different IRA accounts, consider options to consolidate. Check to make sure you named the correct beneficiaries.

 

Other policies such as long-term care, homeowners, auto, disability, health insurance. Ensure there are beneficiaries on accounts to eliminate the need for probate to distribute those assets.
A list of debts 
 

Auto loans, mortgages, home equity lines of credit (HELOC), credit cards. Knowing the debts that are outstanding will give an idea of what creditors may file against the estate.
Membership list
 

AARP, The American Legion, a veteran's association, a professional accreditation association, or a college alumni group. Some groups may have accidental life insurance benefits on their members. Your beneficiaries may be entitled to collect.
Update your insurance 
 

Life insurance and annuities will pass directly to beneficiaries, so it is important to keep them up to date and listed correctly.
Draft or update your will
I cannot stress how important it is for parents of young children to have a will. The will can name a guardian for your minor child(ren), and distribute all your assets according to your wishes. The only opportunity you have to speak for your child in your absence is to designate a Guardian for the minor. This designation weighs heavily in a court proceeding to ensure the child is in good care. Some parents wish to also set up a Trust for their children, which would receive any assets while the children are young and the Trustee manages it for them until they reach a mature age. The Trust allows you to have a say in how funds should be spent, laying out specific orders for the Trustee to follow. By not designating a Guardian, funds from accounts such as life insurance cannot be distributed until a legal Guardian is appointed. This delay could be costly, burdensome, and results in uncertainty for the children in an already traumatic and emotional time. 
Designate a Power of Attorney
Be sure you have an Advance Health Care Directive in place
While we never want to think about a day we aren't able to care for our families, not preparing leaves them vulnerable. Have the conversations now so you can make the best decisions for those you love most. 
Contact Jaclyn Quinn, Esq. at [email protected] or 302-298-3251. DCRAC Law is a nonprofit law firm serving Delaware from New Castle to Sussex.