Your Look This Season Depends Totally On The Person You Entrust With Your Style
|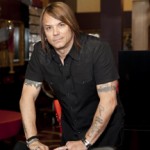 By J. Christian of J. Christian Studio
October brings rich colors, cooler weather. It's that time for rejuvenation, recovery and reinvention as we transition from the hectic pace of summer and just before the glitz and glam of the holiday season.  Hairstylists secretly celebrate the change in season. Those worth their salt have been avidly researching and studying the newest beauty trends Fall/Winter 2012. They stand at their chair READY to take your look from sun-drenched and faded to full on fall fabulous!
Technical Skills Can Be Taught, Creativity Must Be Challenged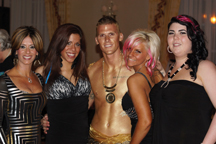 Your look this season without a doubt depends on the person you entrust with your style. Technical skills can be taught in school, but creativity is a different matter. The bounds of a stylist's creativity must be constantly stretched and challenged to grow and flourish. I've learned that giving stylists a forum to take risks, to push their creative talent to the brink absolutely results in a better-rounded stylist.
Some stylist crumble under the pressure, others grow and flourish to go on and create bigger and better things.  For this article, I asked three of my stylist to give you an insider view on what it means to work under the constant expectation to evolve in their field.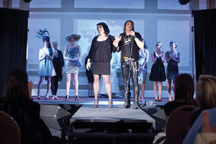 Liz Cimino
"I'm thankful I have a career that I love that doesn't feel like work. It's hard to believe that almost three years ago I was finishing cosmetology school. Working under J has given me the tools and knowledge to become a talented stylist behind my own chair. Clients have also played a huge role in this growing experience. To look back on the last three years and to see how much I've achieved and grown, I really couldn't have done it without my clients and without working in an encouraging environment.  I'm thankful I work at a show salon. I have had the opportunity to get creative working fashion shows, photo shoots and creating catwalks. That has excelled my creativity and really broadened my horizons. I realize the sky is the limit."
"I've worked in the salon industry for the past 10 years. The industry is ever changing and evolving. Thankfully I work in a studio that evolves with fashion trends and inspires me to stay current.  This emboldens me to share new ideas with my clients.  My clients love to hear suggestions on how we can change their style and update their look while still keeping their own uniqueness and putting their own signature on their look. I see a whole range of personalities at this salon; professional singers, to bank managers and senators.  In the short time I've been at the studio, I've grown through new experiences. Performing on stage work and creating hair and makeup for our recent photo-shoot "Brides in Braids, Rock 'n Roll Craze" inspires and excites me about this field.
Kathy Fragale
"Joining the studio my background as a men's grooming specialist brings a traditional hot shave service with some modern pampering to the salon. As a stylist and former owner of JonRae Studio, I am extremely appreciative to have had as my mentor for four years Joe Pacello, longtime owner of the renowned Men's Room in Greenville, DE.   After attending Crazy Catwalk for Kidds, a J Christian Studio Showcase, I knew I wanted to be part of such a great team here at J Christian Studio. When I learned of the efforts they make to give back to the community, I knew I wanted to be part of such a compassionate and caring group."
Stagnation + Complacency = Death to Your Career
I'm a firm believer that no matter your years of experience in any field, you are never too old or too good to stop learning. Stagnation and complacency are death to your career. Finding staff that stands up for the vision and mission of this salon "Ensure every person who comes in contact with this salon is elevated by the experience.  To ensure all people look good and feel better about themselves and their lives" is a difficult but rewarding experience.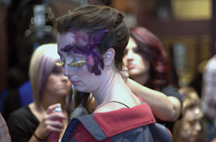 We recently celebrated our 5th year in business. Our business grew 35% this year. We firmly believe the success of the salon hinges on the fact that the vision statement is consistently applied to our clients, our business partners, to the non-profits we work with and to of course and most importantly our staff.
J Christian Studio is an award-winning, upscale salon located in Hockessin, Delaware. We are accredited by the Better Business Bureau of Delaware and recipient of a Torch Award for Market Place Ethics. The salon is the concept of J Christian, an International Platform Artist and Master Educator and a Member of the New Castle County Chamber of Congress.