You Have A Choice…When It Comes To MRI Centers
|
As I write this article, it is still October—still a month dedicated to promoting a greater awareness of Breast Cancer.  I want women with a family history of ovarian or breast cancer to read this article very carefully.  Genetic testing is being discussed more and more and many doctors are confused as how it fits into responsible patient care.  Some claim that testing has not yet been proven to save lives.  However, it is absolutely important to know if you have the BRCA1 or BRCA2 genes.  These cancer genes, if present, can quadruple your chance of getting cancer.  As I said above, this is particularly important if you have any first degree relatives with breast or ovarian cancer.  If you have several second degree relatives with breast or ovarian cancer, then you should consider testing.  If you have had ovarian and breast cancer, I think you SHOULD have genetic testing.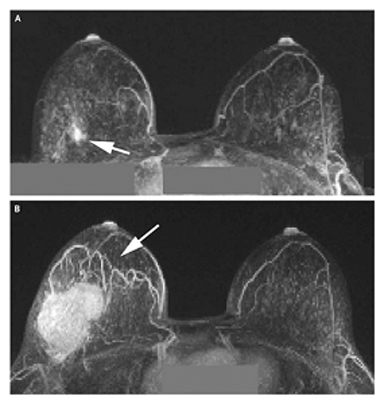 The pros and cons of testing?  If you have the gene, you will be especially careful to screen yearly.  You will do your breast self exams frequently and you will be aware that a suspicious mass could grow very rapidly.  The picture here shows a Worst Case Scenario: a woman with the BRCA1 gene who was presented with a 7mm mass … which grew into a 7 cm mass in just one year.  WOW!
Our MRI facility offers genetic testing for the BRCA1 gene or BRCA2 gene.  Rather than having to have a lengthy and expensive consultation with the genetics department of the hospital, we simply gather your genetic sample (a simple swab of cells from your mouth—like on TV—or a small blood sample) for a nominal fee and send it to a national genetic testing facility.  The patient fills out a short medical history form and insurance questionnaire and the lab agrees to contact your insurance company to see if the test is covered, and, if so, what cost is passed on to the patient.  Once they know, the lab contacts you to inform you of any or all costs associated with the testing—before they actually conduct the test.  You don't make a final decision until you are told what your cost will be and you have a chance to decide if you wish to proceed.
At present, we are the only MRI facility in Delaware to offer genetic testing.  There are no cons to the testing.  There has never been a single case of discrimination based on whether or not someone tested positive for the gene.  And, the recent Health Care Act actually forbids this type of discrimination in the future.  It is true that if a patient is shown to not have the gene, breast cancer can still develop, but your risk will be close to the 1 in 8 lifetime risk for all women in the United States.  If you have the gene, your lifetime risk can be as high as 1 in 2.
Additionally, women who test positive for the BRCA1 or BRCA2 gene will know to stay away from CT scans and other sources of chest irradiation.  It might even be useful to not do as many mammograms, since each one involves irradiating your breast tissue.  This is currently a matter of debate.  As a highly specialized radiologist, I would simply say that if you have the gene, it seems obvious that you should stay away from any unnecessary radiation to your chest or breasts.  Knowing if you have the breast cancer gene can change your behavior and save your life.
IONIZING RADIATION is a matter of great concern nowadays.  MRI is remarkable because it lets us create great images of the human body without using any ionizing radiation—no matter how many you have done.  CT scans blast you with x-rays.  In some cases the CT scans can expose a patient to amounts of radiation that are greater than that received by witnesses to the atomic bomb in Hiroshima!  CT scanners do not always deliver predictable amounts of radiation.  There was a recent finding by the FDA that some scanners inexplicably deliver up to 20 times the ordinary dose of x-rays.  In these patients in California, the radiation dose was so high that the patients actually lost hair and might get early cataracts from a CTA (computerized axial tomography angiogram and perfusion study.)  In most cases a CT study can be replaced by a 3T MRI study.  Most physicians and patients are unaware of the huge dose of radiation that each CT scan delivers.  Be aware.  Always ask if there is a different test available that will not expose you needlessly to radiation.
3T MRI IS 100% SENSITIVE TO BREAST CANCER.  3T MRI is MRI done at 3-Tesla; the highest magnet strength for MRI in clinical practice. 3-Telsa is more detailed than MRI done at lower field strengths and up to 4 times faster.  Minimal breast MR imaging times at 3T can be as little as 8 minutes after the localizing images.  3T is not only the most detailed, it is clearly the fastest exam as well.  For detection of breast cancer ONLY 3T MRI was shown to be 100% sensitive in a study supported by the American College of Radiology.  (For more info:  www.3tbreastmri.com)
Many people—even Doctors—are totally unaware that MRI comes in several levels of quality … ranging from "fuzzy" images to ones that are crystal clear.  We do body diffusion weighted imaging ("DWI").  We do this on both of our scanners at no additional charge on our abdomen studies.  In the brain, this technique shows early strokes.  In the body, it shows tumors of the GI tract and of the kidneys. We found two pancreatic cancers just last year.  We also found several patients with liver mets using this technique.  In the past year alone, we diagnosed two kidney tumors based on their appearance on DWI.
Lastly I want to mention two new promising xray techniques—which we do not offer as our facility is entirely focused on providing the best MRI possible in Delaware.  The first is 3D digital mammography—this technique, introduced by Hologic, is a very interesting way to increase the sensitivity of mammography.  The other technique which, I am sad to say is not currently available anywhere in Delaware, is super low dose CT scanning.  DEFINITION FLASH by Siemens.  A technique called dual energy CT can actually reduce exposure to radiation by about 40%.  You get the same or better information with less radiation.
MRI Consultants offers the best technology in MRI in Delaware.  Even our "open" MRI is an 18-channel 1.5T MRI scanner!  (Ask your MRI provider how many channels his closed magnet has).  Because of it is extraordinary sensitivity to Breast Cancer, we prefer to do our Breast MRI's on our 3T MRI, but for someone who either will not fit, or who is extremely claustrophobic, our 18-channel 1.5T OPEN BORE MRI is a good alternative.  Getting a bad MRI costs no less then getting the very Best MRI possible … except for the time it will take you to repeat an inferior study.  Ask questions.  Get the best.
More information on this and other MRI-related issues, check our websites:  www.mriconsultants.net   www.bestopenmri.net.  For people who are without insurance, we offer a low Out-of-Pocket discount and for those who are truly claustrophobic, we offer IV sedation.  We try to make your MRI experience as low-stress as possible.
Dr. Philip Chao graduated Phi Beta Kappa from Yale University and was Scholar of the House. He continued his studies at the University of Rochester School of Medicine and Dentistry, receiving his medical degree in 1983. After a transitional internship year at the Mary Imogene Bassett Hospital in Cooperstown NY, Dr. Chao did his residency in Radiology at Brooklyn's SUNY Health Science Center (1984-1987), where he became Chief Resident. He stayed on to complete a fellowship in Neuroradiology (1987-1988). Dr. Chao has been interested in MRI technology since its very beginning – the first MRI scan took place in 1981 while he was pursuing his medical studies. The University of Pennsylvania, where Dr. Chao was both a Body MRI Fellow (1988-1990) and a Neuroradiology Fellow (1989-1990), was at the heart of the development of this technology and Dr. Chao was able to work with pioneers in MRI on the first GE Signa 1.5T (tesla) scanner. His advanced research and specializations complete, Dr. Chao left the University of Pennsylvania for a position as Director of MRI in Wilmington DE – a position he held for 14 years. Dr. Chao eventually left that position to create the best MRI center in Delaware, using the very latest technology: 3T MRI. While 3T (tesla) scanners have been used for scanning research patients since 2002, these advanced, more powerful MRI scanners only became available for clinical use in 2004. Dr. Chao worked hard to bring 3T technology to Delaware and in February 2007, MRI Consultants, LLC began operating the first 3T scanner in the State. 3T is the newest horizon for MRI.
Best Open MRI
302 838 7800
www.safecontrast.com