Yes, she is 75 years old, bulging in the middle…
|

Yes, she is 75 years old, bulging in the middle and with a sagging hair line.  She has served us well for 45 years.  While she has had minor cosmetic surgery from time to time, she is due for some major renovation.
While we were not her first, she is now ours and has been a great trooper for Chapel Street Players, withstanding the terrible snow storms of 2011 and keeping us cool during the stress of the great shows that we have all seen at Chapel Street.  She has helped us celebrate the great triumphs of Amadeus, The Little Shop of Horrors and Frankenstein.
YES, she is The Chapel Street Theater.
She needs our help and for that we are running the only Capital Campaign since the renovation of the handicapped bathroom many years ago.  We are a group that pride ourselves on the fact that everyone at Chapel Street is a volunteer.  We estimate that this will cost about $165,000.00 if we get it done in the next 2 years.
What will we do with your contribution?

We will replace the Entrance way, which is leaking
We will replace the roof, which is showing wear.
We will replace the air Conditioners, already 25 years old, and the ducting
We will replace the ceiling in the Theater, which is beginning to show some wear.
We will refurbish the Light and Sound booth so that we can do more shows
We will replace the House Lights.
We will refurbish the downstairs Bathrooms
We will replace the Signs out Front.
We will refurbish the Box Office and the Bathrooms
We will refurbish the Hospitality areas.
How can you help?
Glad you asked!
We would like your donation of 10, 20, 50, 100, 200 dollars to the Capital campaign for Modernizing and Refurbishing the Chapel Street Theater.  You can go on line at  http://www.chapelstreetplayers.org/donation.php and donate,  or you can send your tax deductible donation to P.O. Box 36, Newark, DE  19715.  Please mark the envelope Attn: Capital Campaign.  Make your check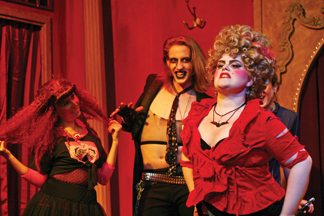 payable to Chapel Street Players.
We pledge to only use the money for the work on the Chapel Street Theater and, with your help, we can continue to grow and prosper as the only Community Theater in Newark, Delaware.