Wiggle Those Toes
|
A lot of what I write about seems to be about what should not be done. Actually, that is what a lot of horse training is about (Don't Do's). If you have read any of my past articles, you probably have realized that we focus more on "being" than "doing" anyhow, but since humans love "doing" things, I figured I would cut you a break and give you something to do this month.
Wiggle those toes!
When riding your horse, 90% of what is communicated should be done by muscle tensioning and relaxing from the pelvis and thighs. In order to see why the little exercise I'm about to describe works so well, let's play a game! Hold your hand out in front of you. Now stiffen and straighten your ring finger – come on! Put all the tension you can stand, hold it! Keep it stiff and straight – now wiggle your other fingers while keeping that ring finger straight.
How did your wiggle wiggle turnout? This exercise demonstrates your brains inability to communicate thru tension alone. In order to communicate (or for your fingers to wiggle) both relaxation and tension must take place. I think an even better analogy to use to demonstrate this communication through relaxation and tensioning is the art of making music.
Music is an art that closely mimics the communication between horse and rider. To further define music in this analogy we should state that music is the art form of making an agreeable sound thru noise. With a little thought, you can realize what makes a noise agreeable is the silence between the noises.
I have coined the statement that it is the silence between the notes that makes the music! To sum up, a constant noise will most likely be disagreeable, causing the listener (the horse) to become agitated.
Music can and should create the desired cognitive state within the listener (the horse).
Now you should have enough fundamental understanding to realize why you should want to wiggle those toes. It creates the silence (relaxation) that is so important in creation of song (relationship) – whether it's Classical or Rock, Reining or Dressage – it's all music!
Toe wiggling allows your muscles to relax and for communication to take place. You do not need to wiggle constantly, just here and there, making sure you're not agitating. Immediately before a transition and immediately after is always a good idea. My experience has always been (even on the spookiest of horses) that toe wiggling helps horses calm down. Besides, no one will even know what your little piggy's are doing in those boots so wiggle away!!!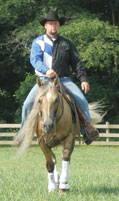 Testimonial: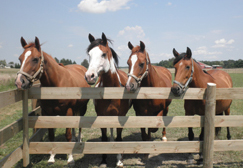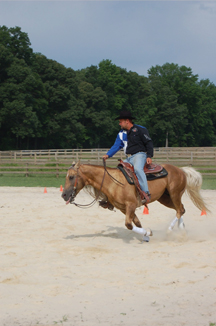 I first met Dean when I was working for an Equine vet. We came out to treat a horse for a simple cut and I remembered being overly impressed with how calm and concerned he seemed to be with this horse. I remember asking a few questions to the vet I was working with – who he was and what he did. I had never seen such happy horses – and at the time, I had a "dangerous" horse that needed to be fixed as his life hung in the balance.
I gave Dean a call a few days later and brought my horse down. Gilbert took to Dean immediately –
a horse that once bucked people off the minute they stepped into the stirrup was calmly letting Dean and his assistant mount and walk around within two weeks. I didn't fully grasp what Dean had done for Gilbert then. After our sixty day stay  – I took him back home. Watching the way they worked with horses and the amazing results they got – I found myself looking at issues I was having with my "well – broke" horses and wondering if my horses were truly being "bratty" or if I was to blame.
I made the decision to bring my horses down to Dean's permanently – and they are so much happier for it. I can't possibly describe what it's like to actually communicate with your horse and be "as one". My horses are calmer, happier, and so am I. The knowledge I have gained in these past five years has made me not only a better rider – but also a better horse owner. To bring someone a horse that has taken out some of the top trainers in the area – and to see that horse no longer want to buck and hurt someone – not because he has been 'run down' or starved – but because he wants to please you and be with you is a feeling comparable to winning the lottery.  The sheer enjoyment I have when working with my horses with Dean is something I'll treasure always and I hope every horse owner gets to experience that kind of relationship with their horse.
Kaitlyn Krol, Dover, DE
Centaur Training, LLC
A full-service boarding/training facility.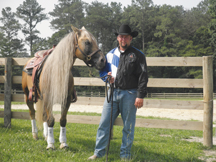 22000 Heritage Farm Rd.
Bridgeville, DE 19933
302-245-5423
[email protected]
www.centaurtrainingllc.com