Who Pays My Wages If I'm Injured On The Job? Delaware Workers' Compensation Benefits
|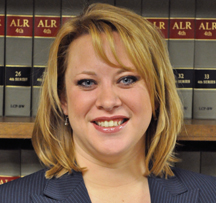 Heather A. Long, Esq.
When new clients come in for their initial consultation meetings in my office, almost always their biggest concerns are how they can still get paid while they are injured and out of work.  Understandably, in these tough economic times many families are finding that they are having to stretch the family budget farther than they ever have before and the prospect of losing income can be terrifying. The fear of not being able to make ends meet is often the reason that many injured workers try to return to work before they are physically ready to do so. This then can start a nasty cycle that results in aggravation or worsening of the original injury, which in turn can prolong the amount of time that the injured worker needs treatment. The injured worker can become trapped in this cycle, going around and around, until their injury is properly treated and is allowed time to heal.
If you are injured at work, it may be tempting to jump back in to your job and try to deal with your injury on your own.  However, rest assured that the Workers' Compensation laws are set up in such a way that you will not have to go without pay if you choose to follow your doctor's orders to remain out of work. If your doctor indicates that you must stay out of work completely, this is called Temporary Total Disability, or TTD for short.  If he or she wants you to reduce your hours, that is called Temporary Partial Disability, or TPD for short. In both circumstances, injured workers are afforded the protection of Workers' Compensation laws to protect a portion of their earnings while they are recuperating.
Injured workers that are on TTD (completely out of work) are paid by their employers' Workers' Compensation insurance company, rather than being paid directly from their employer.  In order to start payments, the injured worker must timely report the injury and should have a "First Report of Injury" filed with the Department of Labor. (For more information on how to do this, please see my July and September articles.) The First Report of Injury should have your correct wage listed.  For those employees who receive extra incentives such as commission, bonuses, mileage, etc., you will want to keep a close eye on this to make sure that your wages have been reported correctly.  Often times, after the First Report of Injury is filed, an "Agreement as to Compensation" is also filed.  This Agreement as to Compensation details your average weekly earnings before you were injured. Typically, this is calculated by reviewing the past 26 weeks (6 months) worth of earnings.
Once the injured workers' average weekly earnings (pre-injury) are calculated, we can then calculate the benefits that are due under the Workers' Compensation laws. Here in Delaware, an injured worker is entitled to two-thirds (2/3) of his pre-injury earnings, up to a maximum of $645.01 and a minimum of $215.00 as of July, 2012.  It is important to note that the minimum and maximum benefit amounts change each year. The most current limitation amounts are listed on the Department of Labor website at: http://dia.delawareworks.com/workers-comp/documents/Workers%20Compensation%20Rate%20Chart.pdf.
Therefore, as an example, if an injured worker had average weekly earnings of $600.00 per week before taxes and his doctor orders him to stay out of work completely (TTD) he can expect to receive $400.00 per week in Workers' Compensation benefits.
Injured workers who are ordered by their doctors to reduce their hours (rather than going out of work completely) are also protected by the Workers' Compensation laws. As discussed above, this is called Temporary Partial Disability, or TPD for short.  In this case, the injured worker is entitled to two-thirds (2/3) of the difference between his old, pre-injury wages and what he earns with his new reduced hours. The same 26 week period before the injury is used to calculate the average weekly wage upon which the Workers' Compensation benefits are based.
To further illustrate this situation, let's say that the same worker from above that was earning $600.00 dollars per week before taxes was placed on TPD by his doctor. He used to be able to work 40 hours per week, and now his doctor indicates that he can only work 30 hours per week. Accordingly, he went from earning $600.00 per week to now earning only $400.00.  He is then entitled to TPD benefits for the $200.00 per week that his paycheck is short.  TPD benefits are also paid at two-thirds; therefore, he can expect to receive $133.33 in Workers' Compensation benefits. This serves as a supplement to his $400.00 paycheck, so his total weekly income of his on the job earnings plus Workers' Compensation benefits would be $533.33.
As you can see, figuring out exactly what your weekly Workers' Compensation wage replacement benefits are can be a daunting task. A consultation with a lawyer who specializes in this area will help you figure out what you are entitled to, and can streamline the process so that you are paid promptly. All of the lawyers in my firm, including myself, offer consultations for work injuries.  The consultations are free, and the insight into your claim could be invaluable to your future health and benefits.
Heather has been an attorney for over six years, and is currently practicing workers' compensation and personal injury law at Kimmel, Carter, Roman & Peltz, P.A. with offices in Newark and Wilmington. Heather worked her way through law school as a paralegal in a personal injury firm. After passing the bar exam, she spent several years working as a defense attorney, representing local, regional and national companies. With the knowledge gained of the inner-workings of these companies, she now represents injured workers and personal injury plaintiffs.
Heather is a graduate of Widener University School of Law, and the University of Nebraska- Lincoln. Prior to attending law school, she was licensed as a paramedic and spent time volunteering for her local ambulance corps. She is also active as a Mock Trial coach for Salesianum High School.
Testimonials:
• "The settlement you got sounds much better (than the offer they made to me before I hired you) and I don't have to worry about my bills and such. Thank you so much." ~ C.W.
•  "You did great at the hearing, getting my boss to admit that they knew I fell."  ~ J.J.
Heather is licensed to practice law in Delaware, Pennsylvania, New Jersey, and the U.S. Virgin Islands. For more information, or to schedule a free consultation, please call
(302) 565-6100 or e mail her directly at [email protected].