Where Hair and Art Perform
|
By: J. Christian
of J. Christian Studio in Hockessin, DE
The Studio has always been grateful to Pam Rizzo as an avid supporter of the salon. When she mentioned a feature, I was both honored and excited for the opportunity to talk about the Studio. I'm fortunate to be a part of the international hair community.  For the past 12 years, I've traveled the world working alongside the greatest minds in the industry. Stylists at the 'master' or 'elite' level will tell you what drives them is using their skills to enrich the lives of others. This was the guiding principal behind J Christian Studio.
Opening the Salon
The salon is a reflection of my journey as a stylist. Rich color, strong textures, a little European, a little bit of New York,
cutting edge equipment.  Not your average salon, but we are different for more important reasons than style and decor.
Our Vision, Mission and Values
Our vision statement:  "Ensure every client who makes contact with the studio is elevated emotionally by the experience. To ensure all people look and feel better about themselves and their lives." We know that in order to succeed must execute this vision within and BEYOND our four walls.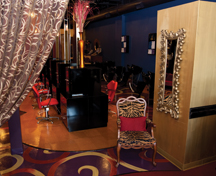 How – We've Set Pretty High Standards
1. Provide Stylists with the Environment and Education to Grow as an Artist and Entrepreneur
2. BE the "Role Model" for Customer Service
3. Better our Community through Philanthropic Focus – serve the community by providing opportunities to strengthen family, show our talent and raise funds for organizations that spend their dollars only in Delaware
Here's an Example:  "Crazy Catwalk for Kidds"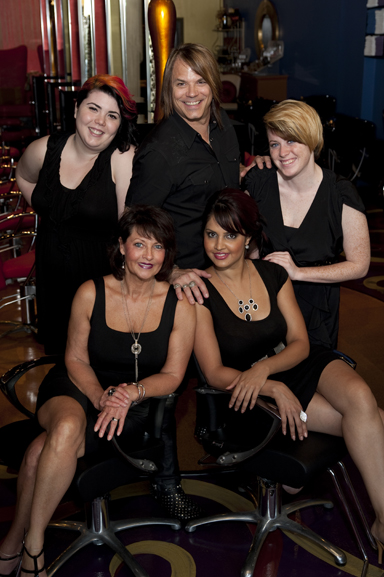 Of four events we hold each year, "Crazy Catwalk for Kidds" is probably the best example of achieving our vision. This year about 1,400 people came out in torrential rains and we raised  $15,000 for Supporting Kidds.
Here's how we measured success:
1. Of the 180 volunteers, 95% are our clients.  Show vendors are by invitation only. Each vendor must serve our community and are unique in their own right.  Local boutiques, health and beauty professionals, food vendors, dance teams and artists put away rivalry in exchange for community spirit and it's so tangible that participants and attendees comment on this when they arrive.
2. Models range from 4 – 65 years. Families, friends, school mates comprise the model roster. These ladies step outside their comfort zone by relinquishing any influence over their final look for the catwalk. Women young and old experience new found confidence, daughters learn to appreciate the beauty of internal self-confidence as mothers nail the authentic interpretation of the fashion.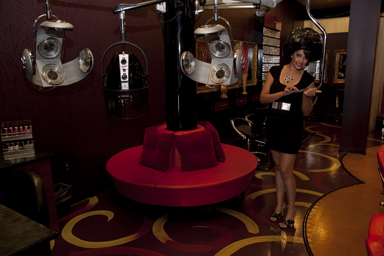 It's a beautiful thing to watch unfold.
3. Everyone in the salon works on the event. Defining catwalks, selecting models, entertainment, vendors and staging hair shows.  This sparks innovation, motivation, and pride feeding their passion for the work they do every day.
Award Winning Salon
The salon has won several awards since opening in August 2007. Many I'm proud to say for customer service.  Our goal is to be the "Role Model" cited as exemplary.
Some quotes from our clients:
"The entire staff seems to focus on taking care of the customer.", "You don't feel judged when you come here.", "I don't feel pressured here.", "No matter what I look like or where I'm coming from, you always treat me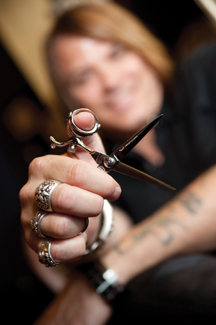 the same.", "You took the time on the phone to find out which stylist would be better for me and my hair type, never happened before.".
In my view, this is exactly what owning a hair salon is about. OUR CLIENTS
Operating a salon at this level is tough.  I've found some rare jewels in my staff. Recruiting is difficult. Stylists get comfortable and complacent.  Many aren't interested in stage shows and community service. I'll keep looking until I find the right fit, it's worth it.
As for me, I'll keep practicing what I preach when I travel for Sexy Hair. Be the best, grow your passion, and use your skills to give back, be a positive influence in your community.  I love owning a salon. Every day, in good times or bad, I thoroughly enjoy turning the key in the lock and flicking on the lights to start a new day at J Christian Studio.
J Christian is an award-winning, International Platform Artist and Master Educator for Sexy Hair, Los Angeles. Together with his wife Marcy they own and operate J. Christian Studio in Hockessin, DE. He travels the world and regularly teaches at the Institute of Courage, a hair academy in California founded by Michael O'Rourke. Owner Michael O'Rourke Hair. The salon is accredited by the Better Business Bureau, is the proud recipient of the Better Business Bureau 2010 Torch Award for Market Place Ethics and recent recipient of First State Favorite Salon for Women in New Castle County.