What About Dentures?
|
By Anna Marie Mazoch, D.D.S.
Do you or someone you know have a full denture? When we discuss cosmetic dental procedures, patients most often think of crowns or veneers, whitening and bonding. However, many people wear full dentures and they want to look youthful and have a pleasing smile, just like all of us who have our own teeth.
An older denture may have discolored teeth with stains and chips. The teeth are worn down with age and the pink acrylic "gum" can turn an unnatural off-orange color. As the front teeth wear down, less tooth shows when smiling. Also, the upper front teeth become flat across the bottom and all of one length. This wearing-down results in a much older and unpleasant look. A new denture can take years off a patient's age. A new denture can open the bite, allowing more space for longer front teeth, resulting in a much more youthful, agreeable and attractive appearance.
Older dentures not only exhibit these cosmetic problems, but the inside fit of a denture changes with the years as the gum and bone shrink underneath. Also, as the teeth wear down, the bite closes so that the upper and lower teeth are also closer together than they used to be. This over-closure can result in both a more severe and older appearance and a condition called angular cheilitis. Cheilitis is an inflammation occurring at the corners of the mouth. There can be cracks, redness, and sores at the mouth corners and a fungal infection called candidiasis (thrush) can occur. Although a topical prescription medication may be necessary to correct the infected  sores, opening the bite with a new denture can prevent its recurrence.
If you think you are too old or that you cannot look good with a denture, just take a look at Mr. O.
And if Mr. O. doesn't convince you that you can be charming, handsome and appealing, then maybe the most famous denture wearer of all time can.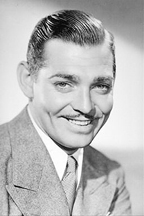 Clark Gable lost his teeth while in his early 30's due to severe periodontal disease. Of course, I'm not advocating dentures over natural teeth; but if circumstances have caused you to lose your teeth, then why not look like a movie star?
Denture wearers often do not visit their dentist regularly. They assume that, because they no longer have teeth, there is no need. However, the tissues change with time, underneath the denture.  Sometimes they shrink along with the bone support and sometimes they become very flabby causing the denture to constantly move or cause sore areas.  If your denture no longer fits well, a dentist can help with a reline, new denture or placement of implants. Your dentist can recommend aids and techniques for keeping  your denture clean and in good repair.

Dental health professionals can also clean the calculus and stains from your denture with instruments and an ultrasonic cleaner at your yearly visit.
MOST IMPORTANT OF ALL, ORAL CANCER EVALUATIONS CAN BE ACCOMPLISHED AT A YEARLY EXAMINATION.  ORAL LESIONS CAN EASILY HIDE UNDERNEATH YOUR DENTURE!
2601 Annand Dr., Suite 18, Wilmington, DE 19808
We are conveniently located near the corner of Kirkwood Hwy and Milltown Rd, near Pike Creek and Milltown shopping center.
Email:
Visit us on facebook
Phone: 302-998-9594
Fax: 302-998-8207
This month we are featuring Dr. Mazoch in our staff spotlight. Dr. Mazoch is a native of Bridgeport, Ohio, graduating with her bachelor's degree from Ohio University in Athens.   She moved to Chicago, Illinois, to attend Dental School at Northwestern University. Her dormitory (mandatory for the first year of dental school) was a former Naval Officer training center on famous Lake Shore Drive.
After graduation, Dr. Mazoch worked for several years in Cincinnati, a city where she met her future husband, Edward Blanchard.  Edward finished his PhD. in physiology at the University of Cincinnati and then they moved to Vermont, where Dr. Mazoch established her practice in the state capital of Montpelier.
They lived in the country, rode horses, gardened, renovated their 100 year old farmhouse and had two children, Alexander (Alex) and Anastasia (Stacey). In 1997, she and her family moved to Kennett Square, Pennsylvania, where they still reside.
Their children attended Unionville schools, with Alex completing his BA in History and Government and his Law degree from the University of Virginia, and Stacey completing her BA in Fashion Merchandising from the University of Delaware.
Dr. Mazoch loves to work in her flower garden, practice yoga, walk for exercise and paint (oils are her medium). She and Ed love to spend time in Annapolis and hope to soon obtain a boat for fun on the water; her motive for a boat purchase is to be able to entice future grandchildren to visit her – and her boat!
Dr. Mazoch bought her existing practice from Dr. David Annand in 2001 and has been growing, modernizing, remodeling, and improving ever since. Her main area of interest is, and always has been, her relationships with her patients.  Patients always come first. Every procedure, recommendation, new equipment, staff hire and continuing education course is determined by whether or not it is in her patients' best interest.  She and her team try to make their patients' visits as enjoyable as possible by striving hard to be on time, providing fresh, free beverages, listening to and acting upon new ideas taken from surveys, furnishing music and ear buds to drown out noise, providing blankets for cold patients and fans for hot patients, trying to allay whatever anxieties our patients may have.
Her most recent acquisition is a buffering pen which reduces the "burn" of the local anesthetic as it enters the tissue. It has been very successful in diminishing the discomfort of lidocaine injections. Onset is quicker and duration of anesthesia is longer with this device. There is no extra charge for this rather expensive addition to our equipment.
Dr. Mazoch recently made the decision to no longer charge patients for the Velscope light examination. This light provides an aid to her visual oral cancer evaluation by focusing in on areas of inflammation which may be precancers. She feels that, after several years of a modest additional fee for this exam, her costs have been covered, so why not provide the service free of charge.
All of us at Dr. Mazoch's office would love to show you our hospitality and friendliness.  Why don't you visit our website or give us a call to set up an appointment today?