Welcome To Massage & Reflexology Of Delaware
|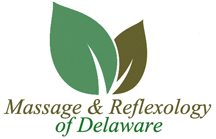 At massage & Reflexology of Delaware, what sets us apart from ordinary massage is:
• Our focus on providing a superior therapeutic experience.
• Our approach is personal and customized.
• Our highly trained and qualified massage therapists work with you to meet your individual needs, whether it's to provide relief from pain, tension, or stress, or simply to relax and feel your best.
Quality, integrity and "Exceptional Client Care" are never an accident. We focus exclusively on providing you the highest quality pain relief and stress management services available in this area. For over two decades, we have helped so many people like you get real relief from pain and discomfort, with extraordinary results. Our approach is personalized massage therapy not cookie-cutter massage therapy.
"What a great Mother's Day present! My massage with Jenn was way better than flowers. I always walk out of Massage & Reflexology of Delaware pain and stress free. The atmosphere is just perfection. Thanks for offering excellence!"
~ Karen (Newark)
Distinctions in Standards of Excellence
Massage and Reflexology of Delaware is Delaware's only Nationally Board Certified in Therapeutic Massage & Bodywork practice and is an (NCBTMB) Center of Excellence. Massage and Reflexology of Delaware has achieved this distinction by upholding the profession's ideal measure of excellence and professionalism while promoting the highest professional standards in massage therapy, keeping current in professional training and working in an ethical, client centered atmosphere.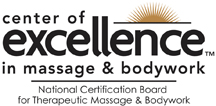 We are 1 of only 14 Centers of Excellence in the United States!
My last 90 minute massage with Heather was so excellent that it felt like my pain was melting away on the table… it will be hard to go back to 60 minute appointments again! Thank you for always leaving me wanting more!" ~ Julie (Greenville)
Our Signature "Fusion Massage Therapy"
Since stress can translate in different ways for different people (from aches and pains, to muscle tension, to both physical and emotional exhaustion), massage can actually help our body and mind de-stress. Explore our exclusive techniques (called Fusion Massage Therapy), and discover how thousands of clients, just like you, have used our therapy as a successful alternative to other forms of treatment. Developed by our owner, this therapy may use several different techniques during your session. Your neck may need one technique and your low back may respond better to a different one. Fusion Massage Therapy provides relief as well as, if not better than, medication for many ailments, including but not limited to:
• Fibromyalgia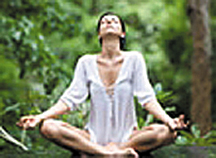 • Chronic Fatigue Syndrome
• Long hours hunched over
(dental or administrative assistant)
• Repetitive lifting (child care, manual labor)
• Increased susceptibility to immune dysfunction
• Pre-Joint Replacement Therapy
• Insomnia
• Athletic/exercise-related injury or pain
"Terry Meyer is an Angel! My life was changed forever with her God-given talent with massage. I am a fibromyalgia sufferer and for years I went from therapist to therapist until I found Terry. After going to Terry exclusively for almost 4 years, she recommended one of her other therapists, Maryann Summers, who has successfully treated my condition with Myofascial Release with amazing results. I highly recommend Terry and her staff for those who suffer with chronic pain. Did I mention it's affordable?" ~ Regina (Newark)
Our Therapists must be proficient in many techniques to relieve Soft Tissue/Muscle pain & stress, reduce inflammation and increase range of motion and are continually educated & tested on this knowledge.
Reflexology
Reflexology is a compression/release technique used to restore, maintain and enhance the health and well-being of the entire body. It is a natural, drugless way of stimulating and increasing the circulation to all the internal organs, while inducing a "relaxation response" that promotes the body's innate aptitude for health.
What to Expect
Your therapy will include:
• Customized treatment plan that will give you relief from pain at every appointment.
• Ongoing evaluations to modify your treatment, as needed.
• Stretching and a hot/cold pain therapy plan to use at home.
Flat Fee Pricing & No Tipping Policy
• 90 Minutes — $95
• 60 Minutes — $65
• 45 Minutes — $50
• 30 Minutes — $35
• 1 Hour Synergy Massage — $95
(2 Massage Therapists)
• No Memberships, Tips or Hassles
Gift Cards available in any monetary value and fees are by session length, not technique.
Instant Gift Certificates available on our site: www.MassageAndReflexologyOfDelaware.com
Call or email to schedule your appointment. "New Client Discount Coupon" on site.
Mon.-Fri 10am-6:30pm
Saturday 10am-4:00pm
(302)633-4035
1601 Milltown Road #15, Wilmington, DE 19808
302.633.4035 • www.MassageAndReflexologyOfDelaware.com