WARM BAMBOO……HOT STONE MASSAGES…Rejuvenate, Relax & Nourish your Muscles… for Fall.
|
There are many different kinds of massage
and two that are considered by many to be totally relaxing
and perfect for fall are warm bamboo and hot stone massage.
They not only relax the body
but the added warmth will cause stiff muscles
to release for that deep down total enjoyment.
WARM BAMBOO MASSAGE
According to Associated Bodywork and Massage professionals, Chinese, Indonesian, and Japanese rituals and myths abound with bamboo symbolizing life, energy, prosperity, longevity, sexuality, and fertility.  In China stalks of bamboo still symbolize eternal youth, strength, prosperity and peace. What may seem like a new technique, Bamboo massage has ancient roots and perhaps deeper associations than simply bodywork.  Today bamboo is touted as Bamboo-fusion, Tian di bamboo massage, or simply promoted at high end spas as the latest exotic treatments or for massage therapists as a new tool. But bamboo can be seen as much more
than a new tool or accessory.
This unique massage involves using heated bamboo rods of various sizes to knead and roll out knots and relax tense muscles.  Warm bamboo synergy massage combines the traditional benefits of massage along with the comforting qualities of heat.  It is the perfect massage to counter the effects of stress, tension and the lack of rest.  The bamboo pieces are specially designed and treated to be the perfect tools for massage.  They are heated on custom made heating pads which allow the pieces to be heated to the optimum temperature thus enabling maximum retention of heat.
HOT STONE MASSAGE
The use of hot stones for healing dates back to ancient times…. How does Hot Stone massage work?  The stones are usually made of basalt, a type of rock rich in iron, so they retain heat. River rocks are normally used as they have been smoothed over time by the water's current. The stones are immersed and heated in water and then placed along the energy centers of the body in order to relax muscles, dissolve tension and reduce stress.  They also mentally relax and enable a spiritual connection to the earth's energy. Hot stones encourage the exchange of blood and lymph and provide soothing heat for deep tissue work.
HOT STONE MASSAGE IS BENEFICIAL FOR:
~back pain and aches
~poor circulation
~Osteoarthritis & arthritis pain
~stress, anxiety & tension
~Insomnia
~Depression
These are only a few of the wonderful massages that are offered at Kaya Yoga and Wellness Center. Take the time to nourish your body this Fall! Call today for your special relaxation treatment. For more information, call 302-227-3450.
Or Visit us online at KayaWellnessCenter.com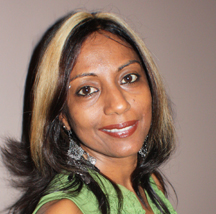 About Suzette:
Suzette Ramnauth has been a certified Yoga instructor for over 10 years. She studied massage therapy at Alternative Therapy Holistic Center and Massage School in Newark, DE. She has been a CMT at Toppers Spa in Dover Downs Hotel & Casino, and has also worked with private clients. She considers herself a body-energy worker, and brings her experience with the human form into each of her sessions. She is also a Reiki practitioner and says of her work, "I simply feel blessed to be doing what I love!"
Publisher's Note:
When you first meet Suzette you will probably be shocked that she could even do a massage since she is so tiny. But then she starts to massage you and you realize very quickly that you shouldn't jud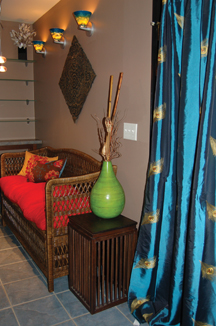 ge a book by its cover. This young lady is great. Well worth an hour of your day to treat yourself.
Testimonials:
"To have a massage from Suzette is absolutely WONDERFUL. I come away from it with a feeling of pure JOY. My body feels so much better and I am so relaxed. She is able to get all those toxins out of me and I get relief from the tightness in my body. I highly recommend Suzette to those who are looking to get a fabulous massage."     ~ S. Holden
"Suzette is absolutely great! She has an understanding, compassionate nature that immediately puts you at ease. She takes the time to listen to you and your specific needs then determines what exactly she needs to do to make your massage experience the best that it can be!! You will not be disappointed!!"     ~ L. Pyle

"I have a very active lifestyle, running a martial arts school and teaching in excess of 15 martial arts and wellness classes per week.  I came to Suzette for a 1 hour massage. It was exactly what I needed to release the tension in my muscles and also to help me relax. With my healthy lifestyle, it is important to take some time for myself to de-stress. Suzette's massage was a perfect balance of stress reduction and relaxation. I can't wait for my next massage."       ~ D. McDine, Owner, The Chinese Martial Arts Center