To The Newlyweds
|
Have you heard the latest buzz?
There is no better time than 2012 to purchase your first home. Between all-time low interest rates and first time buyer programs, there are many benefits to buying now..
Fixed interest rates are at all time low levels. A 30 year fixed rate stands at 3.875%, the lowest we have ever seen. If you compare today's rate with a rate at 6% (which is closer to an average rate over the past 20 years), the differences are astounding. Let's take a $200,000 loan for an example. The loan payment at 6% would be $1,199 per month.  That same loan amount is $940 per month at the current rate of 3.875%. That is a difference of $259 per month, which is $93,240
over the life of the loan!
There are also many first time home buyer programs that you can take advantage of in Delaware. You can apply for a Delaware state bond loan for up to $10,000 at 0% interest!  You can use this money towards down payment and closing costs and the loan will never accrue any interest.

We have clients buy homes that bring $0 to the closing table. The costs of owning are at all time low's and you may be surprised to see the comparisons between renting vs. owning. For $2,000 per month, you can purchase a home for $325,000 with annual taxes of $2,500 included in that payment. You could also purchase a home for $225,000 for a $1,500 monthly payment and a $150,000 home for $1,000 per month.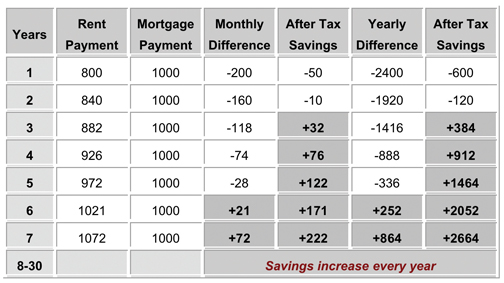 Buy vs. Rent Comparison
The chart below shows a cost comparison for a renter and a homeowner over a seven year period.
The renter starts out paying $800 per month with annual increases of 5%. The homeowner purchases a home for $110,000 and pays a monthly mortgage of $1,000.  After 6 years, the homeowner's payment is lower than the renter's monthly payment.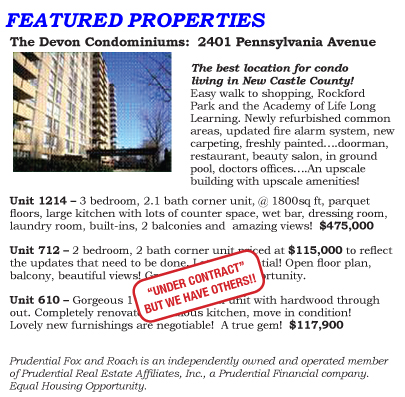 Mary Laskaris can be reached at (302)383.9644.
Prudential Fox and Roach is an independently owned and operated member of Prudential Real Estate Affiliates, Inc., a Prudential Financial company. Equal Housing Opportunity.
Mary Laskaris has been a knowledgeable resource for Real Estate matters in Delaware and Pennsylvania for over 30 years. She has negotiated over $300 million in sales during her impressive career. Mary has been continuously recognized as a Member of the President's Circle and recipient of the Leading Edge Society award for Prudential Fox and Roach Realtors and is ranked in the top 5% of Real Estate agents in the United States. Her personal approach and high level of service is what Mary's clients say makes her a great choice when choosing a realtor.
Mary Laskaris, Realtor 302.383.9644
Diane Penna, Realtor 302.598.9088
Corby Spruance, Realtor 302.530.1898
Kristi Prosceno, Team Manager 302.426.6187
Testimonials:
• "Mary has been so patient and understanding of my needs. She is truly a pleasure to work with."  ~ Chris C.
• "Not only was Mary sensitive to the emotional aspects of the situation she was knowledgeable and professional in all aspects of the technical end."~ Michael L.
• "Thank you Mary for the much needed guidance and support, you are the best." ~ Melania S.
• "Mary was so helpful…this was our first house and we felt at ease the entire time."  ~ Peter B. & Amanda R.