TIA: A Wake-Up Call To An Impending Stroke. Healthy lifestyle choices, cardiac rehabilitation can help reduce risk
|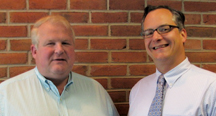 By Andrew Freese, MD and Scott McCurley, MD
A bad headache. Difficulty focusing. Confusion or fumbling to find words. It's tempting to explain away troubling symptoms and chalk them up to fatigue, eye trouble, one too many cups of coffee. But these symptoms – particularly if they're severe – may signal a stroke.
Each year, 425,000 women suffer from stroke. Nearly one third of all strokes are repeat events. Unfortunately, more than half of those under age 65 who suffer a stroke die within eight years, according to the American Heart Association (AHA).
A stroke is caused by the interruption of blood to the brain, either from a blood clot or the rupturing of a blood vessel, and results in the death of brain tissue, due to being deprived of oxygen. Oftentimes, a full-blown stroke is preceded by a "mini-stroke," also known as a transient ischemic attack (TIA), a stroke-like event in which the symptoms resolve within 24 hours. TIA symptoms are temporary and produce no lasting damage to the brain. However, a TIA should be considered a warning sign that a full-scale stroke could follow in the near future: days, weeks, or months.
Anyone can have a stroke, regardless of age, race or gender. But, the chances of having a stroke increase if a person has certain risk factors, or criteria that can cause a stroke. Controllable risk factors – high blood pressure, high cholesterol, heart diseases, tobacco and alcohol use – can usually be changed with a doctor's help. Birth control and pregnancy also can increase a woman's risk of stroke. While more men suffer from stroke each year, more than half of stroke deaths occur in women. Uncontrollable risk factors – age, male gender, ethnicity (African American, Hispanic or Asian/Pacific Islander), a family history or previous stroke, cannot be treated, but can be effectively managed, again with a doctor's help.
Take Heart
If you have had a TIA, or you have an elevated risk for stroke, new research shows that making heart-healthy lifestyle choices can reduce your stroke risk. Even patients who have already experienced a TIA can reduce their stroke risk by participating in cardiac rehabilitation. Not just for patients who are recovering from a heart attack, cardiac rehabilitation programs can improve your heart health, as well as your chances of averting a future stroke.
According to the AHA, coronary artery disease and stroke share many common lifestyle-related risk factors: hypertension, high cholesterol, smoking, physical inactivity, and obesity.  These lifestyle choices play an important part in determining – or reducing – your risk of stroke and cardiovascular disease. Making choices to support heart health also reduces stroke risk.
Traditionally, stroke risk has been managed with medication and counseling. Recent studies using a combined approach of medically supervised exercise, counseling and nutrition programs, have shown that comprehensive cardiac rehabilitation can reduce multiple risk factors for stroke.
One such study, conducted at the London Health Science Center in the fall of 2011, examined the effects of cardiac rehabilitation programs on 100 patients with at least one risk factor for heart disease and who had experienced a mild stroke or TIA. Over a six-month period, more than 25 study participants dropped into lowest mortality risk category on the Duke Treadmill Score, a commonly used measurement that predicts heart disease mortality risk, as well as a lower stroke risk. Benefits included significant reductions in LDL cholesterol and triglyceride levels, weight loss, reduced body mass index (BMI), improved HDL cholesterol, and increased cardiovascular fitness.
If you are at risk for stroke or heart disease – or have experienced a mild stroke or stroke-like event – talk with your doctor about the risk factors that you can control.
Learn more at www.BrandywineHospital.com by clicking on "Health Resources" and "Interactive Tools," and taking the "Stroke: Test Your Knowledge" quiz, or the Heart Disease Prevention Quiz.
TIA signs and symptoms can include:
Weakness, numbness, or paralysis of the face or limbs on one side of the body
Difficulty walking
Loss of balance or coordination
Dizziness
Blurred or double vision
Trouble speaking clearly
Confusion or difficulty understanding verbal communication
According to the National Stroke Association, only 27% of women know more than two of the primary stroke symptoms.
Warning Signs of a Stroke
Sudden numbness or weakness of the face, arm or leg, especially on one side of the body
Sudden confusion, trouble speaking or understanding
Sudden trouble seeing in part of one's visual field
Sudden trouble walking, dizziness, loss of balance or coordination
Sudden, severe headache with no known cause
Not all of these warning signs may be present, and one or more may go away. Don't ignore these signs or dismiss them, even if they do not persist. Call 9-1-1 or seek medical assistance immediately.
Source: National Stroke Association
American Stroke Association
Andrew Freese, MD, PhD is the Medical Director of Neurosurgery at Brandywine Hospital and board certified by the American Board of Neurological Surgeons. He is in practice at Brandywine Valley Neurosurgery and Spine.
Scott McCurley, MD, FACEP is the Medical Director and Chairman of Brandywine Hospital's Emergency Department. Board certified in emergency medicine, he is a member and fellow of the American College of Emergency Physicians.