The Top 10 Trends in Bathroom Remodeling
|
Regardless of trends, the real key to any successful renovation is a design that works for you–both functionally and aesthetically.
As home owners are increasingly deciding to stay in their homes, a bathroom renovation is very high on their "to do" list. In fact, master bath renovation is next right after kitchen renovation. Knowing that they can enjoy it "for now", they also realize that a beautiful, highly functional bath will be very attractive to a potential buyer in the future.
If you are considering a bathroom renovation, these Top Ten Trends in Bathroom Remodeling might provide inspiration and insight.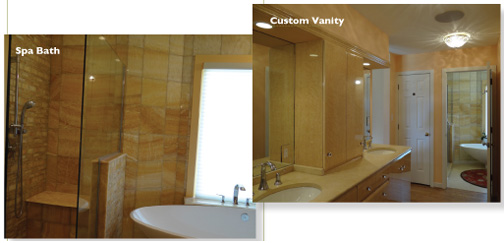 1. The Super Shower
Whether "walk in" or "drive in" the new super shower now consumes a larger percentage of bathroom "real estate", a significant increase over the past 10 years. Features include:
• His/ hers shower heads
• Digital shower preset
• Dual entry
2. The Freestanding Soaking Tub
Overtaking its noisier counterpart (the sunken Jacuzzi) if space permits, the "retro" freestanding soaking tub has taken on new beauty of its own—especially if situated close to a window overlooking a garden—giving the true spa experience.
3. Natural Light
Bringing the "outdoors – in" is essential in most bath designs today. Large windows, skylights, wall outs, frosted glass entry doors and mirrors are just some of the ways to help light penetrate into
your bath.
4. Heated Floors
While it might add slightly to the renovation costs, radiant heating installed under the floor tile alleviates the problem of cold floors. In addition,  radiant heated floors can be one of the primary sources of warmth for the room which helps with overall energy efficiency.
5. Bathroom Technology
• TV integrated into bathroom
mirror
• Musical toilet
• Digital shower–preset to your     specific preferences
• Self closing toilet lids
6. Elevated Vanities
Help prevent excessive bending by elevating
vanities to kitchen counter height.
7. Eco-Friendly Renovation
Effectively implemented, green renovation helps save water, energy and the environment. Hybrid (tankless) water heaters have consistent water pressure and have immediate hot water access.
8. Steam Shower
Incorporating a steam shower adds to the true home spa experience.
9. Universal Design/Aging in Place
Why not plan for the future? Universal design makes your bath accessible to anyone, regardless of age, ability, or disability, as well as the possibility of allowing you to "age in place". Examples:
• Walk-in or drive-in shower
• Seats
• Grab bars
10. The Bath—a Spa-like Retreat
As we look for a place to relax unwind, escape, the "new bath" is evolving into our own highly personalized oasis for budgets of all shapes and sizes.
By creating the proper balance of  "the essentials" with "the handpicked indulgences," you'll have a reflection of your personal taste and lifestyle.
Now Open! We have had the
pleasure of working with Habitat
on its new ReStore in Kennett Square, PA.
Rita Wilkins is the president and principal designer and project manager of Design Services, Ltd. With over 38 years experience, her approach to design is both aesthetic and business-like. She is a highly effective "hands-on" designer with extensive knowledge and expertise in residential, dental, medical, and commercial interiors. A graduate of University of Rhode Island, Rita attended Rhode Island School of Design and the University of North Carolina. She has been published in a variety of national publications and has received numerous design awards.
Design Services Ltd
1403 Silverside Professional Park
Wilmington, DE 19810
302-475-5663
www.dsltdonline.com