The Obstacle Is YOU!
|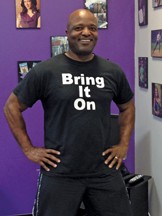 By Marcellus Beasley 
We are confronted with obstacles every day. Sometimes they can be predicted, other times they cannot.  Being confronted with an obstacle is very different than being confronted with a failure. While avoiding failure prevents action, avoiding obstacles may still bring success.  In the world of fitness, many so-called obstacles exist.  Things like "not enough time" or "I don't like working out." Are they obstacles or excuses?  Hmmmmmmm…
The only real obstacle that prevents you from success is your lack of belief in your ability to succeed. Every other obstacle that manifests itself can easily be hurdled if you believe in yourself, and is often an opportunity for growth.
If you don't believe it, there is NO way you are going to achieve it.  So you must have faith in yourself when confronting an obstacle.  It all starts with you my friend!  Work on a way to overcome fitness roadblocks rather than feeling as if an impossible task to get fit.  This will require you to be more creative or think more positively. However, remember that if you want something badly enough, you'll find a way to make it happen.  For instance, getting up 45 minutes earlier to make time for a workout is ensuring that you DO YOU first!
Taking the initiative to prepare for obstacles is a great way for you to overcome and conquer.  For example, if you're going to dinner, take a look at the menu beforehand and determine a healthy option.  Or if you know you have a day filled with meetings, pack meals or snacks accordingly.
Mr. B.-FIT and his staff understand the many obstacles that hinder fitness and wellness success.  Our approach is simple, find ways to overcome and conquer obstacles by preparing, being consistent and having a great time doing it!
We will help you go around or through any obstacle that stands in your way to a fit and healthy lifestyle.  Just by simply being there for you and giving you the tools you need.  By creating a game plan that suits your needs and lifestyle.  Trust Mr. B.-FIT and his staff to help YOU overcome the biggest obstacle of all…YOU…Contact us at our Newark location 302-292-1785 or Wilmington 302-753-4125. Get fit with Mr. B.-FIT   Follow me on twitter @mrbfit.
Testimonial from Mr. David J. Julius
I have been working with Mr BFIT since the first of the year.  My experience with him has been nothing short of engaging, motivating and FUN.  This is a statement that I do not make lightly.  Having tested numerous programs and trainers they all have been rejected in the first couple months.  What makes Mr. BFIT different is his breadth and depth of physical fitness knowledge and his unique ability to make it fun.  His humorous expressions like "Sweat is fat crying" encourages you to continue knowing that the effort being giving will generate results.  He also over the nine months has kept the sessions unique by varying the routines.  I have not found myself bored.   Another one of his expressions is "The pounds are lost in the kitchen".  The discussions while working out will include meals and the value of different foods and how to prepare them. In the time that I have worked with Mr. BFIT I have dropped 2 pants sizes and lost 30 pounds.  I feel better and have more energy.  My wife and I see him together and she actually looks forward to the workouts. He has developed programs that is targeted to each of our individual needs and capabilities.  Mr. BFIT is a personal trainer that gets to know and works with the individual to achieve their goals.