The Journey To A Smile
|
By Anna Marie Mazoch, D.D.S.
What do you do when your dental condition seems hopeless?
What if you are losing tooth after tooth but you want to try to save as many of your remaining teeth as you can? What if you don't want to wear any removable partial dentures at all? What if you hate your smile so you just don't smile, ever? What do you do to avoid surgery to correct your badly positioned jaw bones?
Maria came to me nine years ago with just such problems. Her teeth were worn down, what we now call occlusal disease. She had several teeth which were endangered due to periodontal disease, which is loss of bone and gum support and the teeth were getting loose. Maria also had several abscesses as a result of trauma and decay, necessitating root canal treatment. Her biggest problem, however, was her bite or "occlusion". Occlusion is the way the teeth come together and work to chew food. Her lower six teeth were forward of her upper six front teeth.
This is often called an underbite. It locks the bite into place, so that normal chewing is difficult to accomplish and repositioning of the teeth is impossible without braces.
To make matters worse, a previous dentist had placed a fixed, nonremovable, bridge along both the upper underbite teeth and the normal bite teeth. There was no way to save her bridge and move her teeth.
To say that treatment was complex AND difficult to plan is a huge understatement. We needed the expertise of four different specialists: an orthodontist, periodontitis, endodontist, and oral and maxillofacial surgeon.
Our first step was to get rid of any emergent problems and abscesses so several root canals were required. Next was periodontal therapy, including thorough scaling and root planning and some treatment by the periodontist. The next step was to properly position the lower to upper models of her teeth. This relationship is called Centric Relation and is accomplished using study models taken from molds of her teeth, devices to align the lower jaw to the upper jaw and a correct registration of upper to lower. Once we were able to determine the Centric Relation, we could see that braces were possible, without surgery. Unfortunately, because she needed braces, we had no way to determine where her bite would end up and had to wait until the orthodontist did her best at alignment.
Finally, it was my turn. My first step, as usual, was to plan, plan, and plan some more. We placed multiple crowns, bridges, implant crowns, and bridges, and veneers. The final step was to make a protective splint to prevent excessive wear and abrasion against her new teeth.
Maria and I began to discuss possible treatment options back in 2003. She had braces placed in 2006. Maria's treatment with me started in January, 2009 and was completed in January, 2010. Yes, it took a long time and was very difficult for all involved. But the result was worth it for all of us. To see a patient smile broadly, for the first time in many years, is a priceless gift to a dentist.

My dental team and I truly enjoy helping our patients overcome obstacles of fear and financial difficulties. My office manager, Dawn, has several payment options to offer and explains the ins and outs of treatment; my patient coordinator, Wanda, works to maximize insurance payments and get you scheduled in a timely fashion; my assistants, Shaima and Joanie, help to make your visits comfortable and stress free and will answer all clinical questions; and I offer the best care of which I am capable and give options for various treatments. We hope you will try us out during this new year of possibilities.
Dr. Anna Marie Mazoch received her B.S. degree in Biology, summa cum laude, from Ohio University and her D.D.S. from Northwestern University. She is a member of the American Dental Association, the Delaware State Dental Society and several local dental study clubs. She has been practicing general dentistry for 32 years, first in Cincinnati, then Montpelier, Vermont, and the past 11 years in Delaware. Her keen interest in continuing education for herself and her staff stems from a quote by G. V. Black, the first dean of Northwestern University Dental School and the father of modern dentistry: "The professional (wo)man has no right to be other than a continuous student".
2601 Annand Drive, Suite 18, Wilmington, DE 19808
We are conveniently located near the corner of Kirkwood Hwy and Milltown Rd, near Pike Creek and Milltown shopping center.
Email:
Visit us on facebook
Phone: 302-998-9594
Fax: 302-998-8207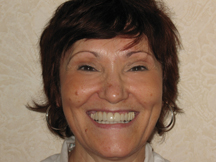 Dear Dr. Mazoch,
I wish I had met you 20 years ago, and had done the major dental work long ago instead of just 3 years ago. However, as the saying goes "Better Late than Never". My dental work involved extensive coordination between different dental disciplines (orthodontics, periodontitis, oral surgeons, etc.) and it needed someone like you to take responsibility in coordinating these disciplines for the prep work. The entire work took a long time (about 3 years), but you were always there for me, always fitting me into your schedule when any emergency arrived. After I finished all the prep work, the hardest, but most rewarding part began: the process of finalizing my smile. You were a true perfectionist always looking for the best solution and never settling for good enough. I remember you going back to the dental technician, asking for work to be redone, until everything fit perfect. I could not have had a more caring and more dedicated professional to help me through this very long process, if it wasn't for the discomfort of dental work (especially the # 2 stuff), I could almost say that I have fond memories of the time I spent in your chair.
I wish you and your excellent team a wonderful 2013 and a long and successful professional career. I hope to have time to stop by next time I will be in Wilmington. ~  Sincerely, Maria