The Bride & Groom's "First Dance"
|
Make the Tradition Easier
Most brides and grooms today have not grown up knowing how to dance together  in closed hold.  Then magically, at weddings, they are supposed to fulfill this task with little experience. Here are a few thoughts to help you get started.
Be Honest
Acknowledge thoughts and fears about dancing in front of others.  Unless you write it out of your plan, your first dance together will be expected– so don't hide.  Plan something that fits your personality, budget, and practice time.  Is this something you just want to "get through"?  Do you want to learn just enough to keep from embarrassing yourselves, or do you want to be able to dance throughout the reception or through out your lives.
Like anything else in life the more effort you give it, the better the results.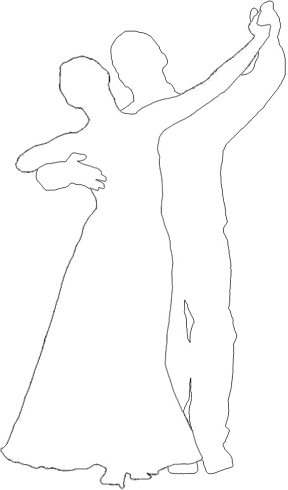 Brainstorm some ideas-what should your style of "First Dance" look like.
Do you want a show that entertains, or an elegant display of grace? Do you want something traditional like a Waltz or Fox Trot to an American Classic song?  How about something that kicks it up a notch like an upbeat swing dance?  Do you want to try something new to surprise and entertain your guests-like breaking out into Michael  Jackson's  "Thriller" moves—something that the entire wedding party can do together or should you be the only two in the spotlight—while a song plays that speaks words that your heart hears as its own love song?
Recognize the costs in Time and Money
Finances are a concern to most of us.  Consider this: Private Lessons are more expensive than group lessons—but you have the instructor's total devoted attention—so it will take less time to learn a simple "First Dance.  If you would like the entire wedding party to perform something fun—You need to have everyone commit to attend lessons together.  Group lessons will create lasting memories –the end product will delight and entertain your guests—but you will need to find the time—so you need to start early for a complicated group dance.  What if you only have time or the budget for one lesson? —do it— one lesson can do a lot to build your confidence and skills.
Find the Dance Instructor who will work with you.
They should consider your wishes, personality and ideas.  They will teach patiently and work at your level.  They should listen and advise you on your music, encourage and equip you with tips to make your dance feel comfortable— A great dance instructor will send you out prepared and will help make your First Dance what you want it to be.
Dancing with someone that you love should be a happy experience.

The First Dance
can set the tone for the entire wedding!
Step Out With Style
Dance Moves and Manners
Social Ballroom Dance for All Ages
[email protected]
302-222-3755
www.DanceMovesAndManners.com