Taking Back Your Yard! Mosquitoes Beware!
|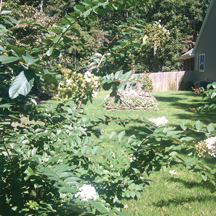 Our Mosquito Control Barrier Spray Program utilizes an EPA-registered solution that our trained applicators apply to trees, shrubs and foliage surrounding your outdoor living areas. A onetime spray will eliminate existing mosquitoes and repel them for approximately 21 days.
No mosquitoes… GUARANTEED! Our applicators will return every 21 days to remove mosquito habitats and reapply the EPA-registered solution to your outdoor living space, breaking the mosquito lifecycle. By purchasing this package, you enjoy the convenience of auto-billing.
Barrier Spray Program
Great for Kids…Great for Pets…
Bad for Mosquitoes!
No more bug repellent on the kids…
No more citronella torches or candles… just mosquito free outdoor living.
We start by identifying and treating the mosquito habitat around your home, dramatically reducing the population. Then, we locate the areas where mosquitoes hide as they wait for their next victim. We apply a light mist of a very mild insecticide formulated to repel mosquitoes for the next three weeks. We return once every three weeks throughout mosquito season to reapply our Barrier Spray Program solution.
Our barrier spray formula is so specialized that beneficial insects such as honey bees, ladybugs, and butterflies will return and be unaffected.
And just to set your mind at ease … the formula we apply in your yard, is a milder concentration of the active ingredient used in shampoo prescribed by Doctors to treat lice in children's hair. It is also the active ingredient in flea and tick shampoo most often recommended by veterinarians for use on pets.
Our Guarantee
We are so confident in the effectiveness of Our Barrier Spray Program that we offer a "No Mosquito Guarantee". If mosquitoes bother you during the three-week interim between treatments we will return and provide an additional treatment Free of Charge.
Misting System
We are proud to offer our customers The Mosquito Authority automatic mosquito control system. When you want to take in the pleasures of your own yard – patio or pool, fun with kids or parties with adults – you deserve to do so in complete comfort. You shouldn't have to be at the mercy of annoying insects and their painful bites. Fortunately, you won't be with our proprietary misting system that effectively eliminates mosquitoes and other biting insects from your yard.
Our system automatically sprays a very fine mist of botanical insecticide through a nozzle circuit that is installed on your property. Once installed, our system virtually disappears into your landscape. You won't even know it's there. Whatever your requirements, a mosquito misting system can be customized to fit your yard perfectly.
The real value in owning a mosquito misting system is being able to enjoy an evening cookout or send your kids out to play after dinner without even thinking about mosquitoes. . . or your mosquito misting system.
Contact us for more information on our misting system.
Testominials
"Just a quick note to let you know how much Gail and I have enjoyed the service provided by Mosquito Authority. It is so nice to be able to use our yard in the evenings without having to worry about mosquitoes and other pests. I have also found that it has reduced the number of bugs we used to get inside the house and all at a very reasonable price. Thanks again for a wonderful service." ~Steve and Gail Landreneau
"We are so pleased with the service of Mosquito Authority. We live on a pond and in the past our outdoor time was cut short by the mosquitoes so it was hard to enjoy our yard like we would like to. Now we can relax and throw some steaks on the grill any time we like or just enjoy watching the kids play. This past summer we lost track of time working in the garden and next thing we knew it was dark! We just couldn't believe there were no mosquitoes! It was great! Mosquito Authority has provided very professional service and we strongly recommend them." ~Dr. Damon and Tess Cormier
Publisher Notes
I have never made a better investment in my home, than Mosquito Authority. I live near wetlands, and I live in the woods, and in the evening it was impossible to enjoy my yard and pool area. Thanks to Mosquito Authority I now can enjoy all of my property day and night. Thanks, P. Rizzo