Take Your Practice to New Heights
|
By: Heather Shafer, CYT
Director, Kaya Wellness & Yoga
PureTransformation
Whether you are an experienced yogi or a newbie, you can transform your practice with the newest mind body experience, Aerial Yoga.
As the name suggests, Aerial Yoga uses a soft fabric hammock to elevate & support you through yoga postures. Once in the air, the body has to learn to align itself properly, thanks to the effects of gravity.
Yoga in Mid-Air?!
Of course, your first thought is likely to be, "sure that sounds fun but only for the well-practiced yogi." Due to the novelty of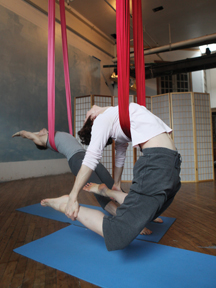 Aerial Yoga, many may think that this is not Yoga for Beginners and may get a little nervous on seeing the trapeze.
PureEase
Fantastical as it may sound, Aerial Yoga actually helps you to move more freely, with less effort by counteracting gravity – something that the novice & the experienced can benefit from. By relieving compression due to the pull of gravity while on the ground, the spine is elongated and the shoulders opened. The suspension in the air releases tension on the bones and muscles, increasing flexibility, and deepening your practice. Among many benefits, suspended yoga strengthens core muscles and the shoulders, increases spinal and shoulder flexibility, and prevents back strain.
"My spine & neck feel so long!"     ~K.L., Wilmington, DE
This is commonly announced by students of Aerial Yoga. Not only will you experience decompression of the spine from inversions,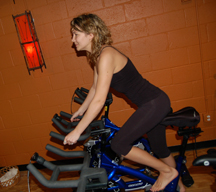 but standing postures, supported by the hammock will also give you this sense of length.
PureFun
It's no surprise that this innovative yoga can be exhilarating. Classes often include laughter as students work their way through initial angst to the point of feeling confident and at ease. The hammock and suspension lend itself to a playful experience that will leave you feeling uplifted and happy.
PurePeace
Despite its being new, Aerial Yoga remains true to the principle of Yoga of finding inner peace. Gravity, in fact, makes letting go easier. Emphasis is placed on breath and grounding in each class, which leads to a blissful experience.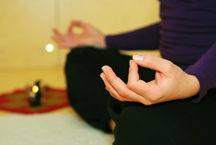 "There's no faster way to get into your body & feel grounded."    ~J.L., Rehoboth Beach, DE
So get ready for a relaxed flight towards inner peace. Aerial Yoga elevates the mind, the body, and the spirit.
Drop-in Aerial Yoga classes are offered at Kaya Wellness & Yoga, in Rehoboth Beach, DE several times each week. You can also schedule for a private, semi-private, or private group training in Aerial.
Kaya Wellness & Yoga
301 Rehoboth Avenue
Rehoboth Beach, DE
(Located underneath of Starbucks)
For a complete class schedule, visit us online at KayaWellnessCenter.com.
For more information or to book an appointment, call 302-227-3450 or email [email protected]sscenter.com .
Stretch the Spirit
Yoga on The Beach!
This summer – call for details
Enter Kaya to open your practice & still your mind….
Allow your true colors to blossom.
Week of full access fitness
Includes all drop-in studio classes including
Yoga, Spin, & Aerial.
$65
Heather R. Shafer is a graduate of Boston University's School of Communication. Upon returning to DE, she discovered The Comfort Zone Center for Whole Self Healing which became life changing as Heather began studying under Ed Harrold. Heather completed the Kripalu-influenced YTT offered at the center, and  went on to receive certification in Unnata® Aerial Yoga, a new technique of yoga that allows students to decompress their spine, and move into more advanced postures with the support of aerial silks.
Heather opened Kaya Wellness & Yoga this spring.Kaya offers the 1st Aerial Yoga classes in Delaware. The studio also feature traditional yoga, workshops, ayurveda, massage and bodywork.