Summer Eye Protection Important Even After Vision Correction Surgery
|
By: Jeffrey B. Minkovitz, M.D.
Eye Physicians and Surgeons
Summer brings longer days, warmer weather, and more outdoor activity.  For many, there is no better time to enjoy the new freedom from spectacles made possible by new technologies in eye surgery. Despite new and improved surgeries which have greatly improved the safety and the success rate for reducing the need for everyday glasses, everyone should remember to protect their precious eyes.
Advances in laser vision correction have allowed better than ever distance vision, particularly liberating for swimming and other summer sports.  It is great to no longer be left on the sidelines or by the side of the pool fumbling with glasses or worried about contacts.  For cataract surgery patients, new advanced technology lens implants, including astigmatism correcting lenses, have allowed spectacle independence even for those who have worn glasses their entire lives.  And new multifocal implants (such as ReStor) and accommodating implants (such as the newest Crystalens AO) have reduced the need for reading glasses, as well.
However, more time spent outdoors, particularly with the stronger summer sun, means greater exposure to harmful UV rays. UV radiation is a known cause of cataracts and macular degeneration, as well as skin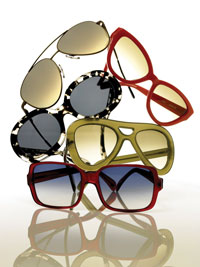 cancer.  One of the most common sites for skin cancer is on the face, including around the eyes.  The American Academy of Ophthalmology recommends protecting yourself by:
•  Wearing sunglasses which block 100% of UV-A and UV-B rays.
•  Consider wrap around glasses and hats with a brim.
•  Be especially careful during times of greatest sun intensity; late morning through early afternoon.
•  Protect your children's eyes too.
•  Though many contact lenses and intraocular lenses now filter UV light, sunglasses add further valuable protection.
•  Sunglass color and cost do not necessarily mean better protection – look for 100% UV blocking on the label.
Summer is also a time for activities which may pose some risk of injury.  Certain sports, use of fireworks, and even lawn care with powered mowers and trimmers, may all result in serious injuries.  Safety glasses with polycarbonate lenses, can protect the eyes from harm, and may be even easier to wear for those who no longer need vision correcting spectacles.
In ophthalmology, we are fortunate to have new technologies which can not only restore patients' vision, but in many cases can improve upon lifelong vision limitations.  Given these options, more and more patients are choosing freedom from spectacles, and improving their performance as well as their enjoyment of many activities.  However, basic eye protection, worn during times of potential risk, will protect the eyes and eyesight.  Whether born with perfect vision or enhanced through one of many new procedures now available, everyone should practice prevention and safety.  And enjoy summer's great pleasures for many years!

Dr. Jeffrey Minkovitz, a partner with Eye Physicians and Surgeons in Wilmington, DE focuses on corneal, cataract and refractive surgery.  After graduating Magna cum Laude from Harvard University, Dr. Minkovitz received his medical degree from the University of Massachusetts Medical School.  He completed his residency in ophthalmology at Barnes Hospital in St. Louis, before serving a cornea and refractive surgery fellowship at Wilmer Ophthalmological Institute of John Hopkins.

Dr. Minkovitz participated in the early research on Excimer Laser photorefractive surgery (PRK) since 1994.  He has offered this procedure to his patients in Wilmington since FDA approval in 1996.  In addition, he performs the latest in refractive surgery to correct nearsightedness and astigmatism; cataract surgery without needles, patches or stitches; corneal transplants, and thoroughly screens for and treats a variety of eye diseases.
Dr. Minkovitz is on the staff of Christiana Hospital, Wilmington Hospital, and the Center for Advanced Surgical Arts. As an assistant clinical professor at John Hopkins University, Dr. Minkovitz received the Outstanding Teacher Award and was also voted Top Doc in ophthalmology by Delaware Today Magazine.  He has been an invited instructor at the American Academy of Ophthalmology Annual Meeting numerous times.
Dr. Minkovitz
is board certified in Ophthalmology.
For further information or to schedule
an appointment,
call 302-652-3353.