Spring Into Great Skin
|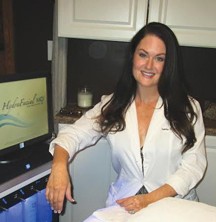 Does your skin need a Spring Skintervention? 
Rejuvenate your reflection with a HydraFacial MD treatment!
Restore your youthful, healthy skin today! For an appointment call 610-444-3570
By Yvonne Estes-Gallagher
The HydraFacial MD treatment is a NEW breakthrough in skincare technology; an all-in-one skin resurfacing procedure that cleanses, exfoliates, extracts, and hydrates your skin using patented Vortex-Fusion technology. The ability to remove impurities while simultaneously infusing a hydrating solution of peptides, hyaluronic acid and potent antioxidants to the skin, separates the HydraFacial from all other skin resurfacing procedures available today.
This non-invasive, non-surgical procedure delivers instant results with no discomfort or downtime. The treatment is soothing, refreshing, non-irritating, and immediately effective. Good for all skin types and conditions, from sun damage, wrinkles, and rosacea to acne and oily skin.
For more information visit our website at tuscanysunandspa.com.
HydraFacial Testimonials
"I found this lovely salon and spa through my daughter who had also experienced a HydraFacial and knowing how much I love this kind of pampering recommended it to me. From the moment I walked in to the time I left I knew I was in great hands. The treatment that Yvonne performed on me was done in a most comforting and informative way. It is a truly unique experience with remarkable results. I was sold after one treatment and signed on for a series of more. The results to your skin are instantaneous and long lasting. The sun discoloration and fine lines start to diminish and the feeling of rejuvenation are immediately seen and felt. I plan to stay on program and continue to benefit from this wonderful enhancing treatment . . . Thank you!"  – Lisa Carnie
"Since Tuscany Sun and Spa introduced me to the HydraFacial in the Fall of 2014, I have had the luxury of enjoying not only the facial, but also the long lasting effects of this amazing treatment. The lines around my mouth and lips are softer, my skin is firmer, and those crow's feet around my eyes are virtually gone. My skin now has that youthful glow that we all covet as we age. My décolleté doesn't have that crepey look it gets with constant sun exposure, but rather it is smooth and soft giving me the confidence to wear those scoop neck tops in the summer.  As a grandmother of 3, the oldest being 13, I am so thankful to Tuscany for bringing the HydraFacial to Kennett Square." – Mary Ella Verdes
After 20+ years of experience in salons and spas, Yvonne Estes-Gallagher wanted to bring her vision to Kennett Square. Her goal was to create an experience where you feel like you are coming home. So Tuscany Sun & Spa was born, a high-end salon and spa with a family feel. Come home to Tuscany, and experience Hollywood's famous HydraFacial MD treatment.
Introductory Offer: $25 OFF your first HydraFacial, 
with a complimentary Pro Quasar LED light treatment (valued at $60). 
You will never be satisfied with a regular facial, ever again!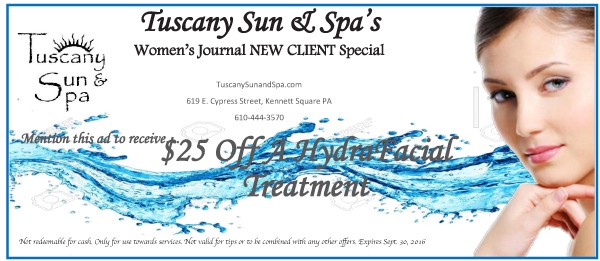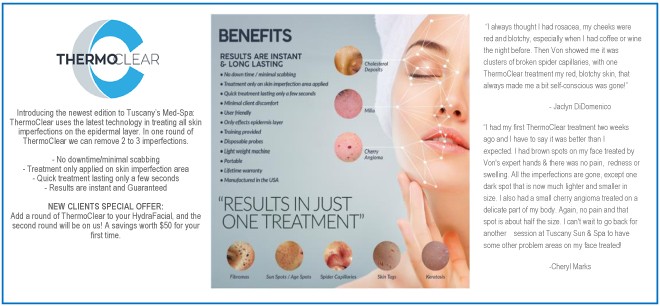 619 East Cypress Street, Kennett Square, PA
610-444-3570