Sophisticated Ladies Will Make You Over
|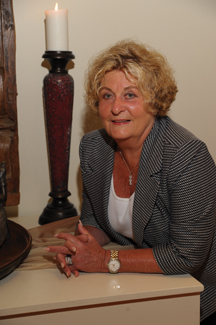 By
Judith Sapol
Sophisticated Ladies is more than a consignment shop. We care and work at having each and every one of you personally attended to without being intrusive. What does that mean?
It means, we not only help you to pick out clothes that look good on you but also coordinate any clothes you may like. Some people feel uncomfortable and uncertain as to what to wear or how to best coordinate an entire outfit. Many people want to know what colors look better than others on them. Did you ever buy an outfit that you did not like when you went to wear it; well maybe it was the wrong color or needed to be better coordinated.
One New Year's Eve a lovely lady named Joy came into the store at 2PM and said she was going to a black tie affair that night and had nothing to wear.  I said to her that I would do whatever possible to satisfy her. She told me she had a dress at home but at the last minute she decided she did not like the way she looked in it. Well wouldn't you know we found her the perfect dress with shoes and a silk shawl. She was so grateful. Her husband loved her outfit and everyone complimented her at the party and how wonderful she looked. The best part of this true story is that the whole outfit cost her less than $75.00. The following week she came back and could not thank us enough.
We have an image consultant who will assist you with coordinating complete outfits to include shoes and jewelry if appropriate. She is at the store from 2PM-6PM Tuesday and Wednesday, 2PM-7PM Thursday, and 2PM-6PM on Saturday. She will make suggestions and assist you in your purchases.
Our consultant has also been doing makeup consulting for the past 15 years and will give you a free consultation with your purchases. Not only is the coordination of an outfit important but your makeup as well.
Come and Visit Us
Taking Consignments Tuesday to Thursday 10-6
Join us for our Wine and Cheese Parties
Enjoy free prizes and many price reductions on all  clothes and jewelry.
Friday January 25th 4-8 PM
Friday February 22nd 4-8 PM
A fashion image consultant and make-up specialist will assist with your purchases and provide free consulting
Like us on facebook for new finds and bargains.
We range in size from zero to three plus.
Home of the $1 and $5 racks.
For more information contact Judith Sapol, Owner/President.
1810 Wilmington Pike (Rt. 202) Glen Mills, PA 19342
610.558.3055
Email: [email protected]