Six Reasons To Use A Real Estate Sales Professional When Buying a New Home
|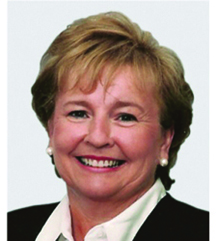 By: Mary Laskaris, Realtor
Mary Laskaris and Associates, Prudential Fox and Roach
Have you heard the latest buzz?
Existing and potential homeowners are looking at real estate from all angles as the U.S. economy and local housing markets continue their recovery. Is it the right time to buy or should I wait? Should I look at foreclosures? What is a short sale? Has the housing market hit the bottom yet? Am I paying too much? The list of questions can be endless and seem overwhelming. But it does not have to be that way.
Here are 6 advantages to using a real estate professional when buying a home.
1.  A real estate professional calls on experience and knowledge of an area to help buyers locate pre-owned and newly built homes in a community.
A good agent will know the history of the area's neighborhoods, which are up and coming, which may be in decline, and other factors that affect pricing.
2.  A responsible agent can direct buyers to houses that match client specifications.  Their access to the area's Multiple Listing Service, or MLS, can save a buyer valuable time and energy.
3.  When relocating to a new area, sales professionals can be particularly valuable resources by providing local area information regarding schools, day care or elder care services, utilities, public transportation, proposed development, zoning, and so on.
4. What may seem like a simple transaction can grow legally complex and risky. A sales professional is familiar with those complexities inherent in the homebuying process. Even for the savvy businessperson the contracts and paperwork associated with real estate can be confusing. When such questions arise, an agent can steer you to the right advisors and services you may require.
5. A real estate professional can help you in understanding the current financing options available to you, as well as identifying qualified, credible lenders.
6. Lastly, real estate agents work on commission; however, a responsible agent will be more interested in finding you a home you can afford. They will encourage you to be realistic about how much home you can purchase. Most agents will do this on the front end.
There are many reasons you should use a real estate agent for your next real estate transaction, all of which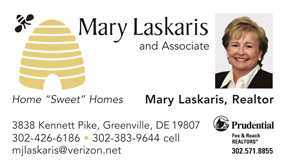 are for YOUR protection.
Today's smart shoppers are using sales professionals to help them through the buying process and on to t he Ame rican dream.
Mary Laskaris can be reached at (302)383.9644.
Prudential Fox and Roach is an independently owned and operated member of Prudential Real Estate Affiliates, Inc., a Prudential Financial company. Equal Housing Opportunity.