Retired Nurse Wanda Tucker Discovers an Outlet for her Nursing Experience In the Volunteer RN Program at Delaware Hospice
|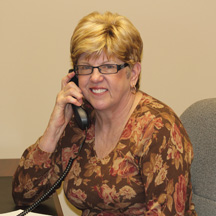 After retiring from a nursing career and relocating to Delaware, Wanda Tucker, RN, was searching for a volunteer role that would provide an outlet for her compassion and skills.  She found it at Delaware Hospice.
The Volunteer RN Program offers retired nurses an opportunity to share their expertise and to continue to experience the self-fulfilling rewards of caring for others.
Wanda served as an RN for 38 years in a urology office and in cardiac care while living in California.  She discovered Delaware Hospice's volunteer program upon her move back to the East coast in 2011 and signed on.  She said, "I had no experience with hospice, but I felt the need to get involved. So, for the past year and a half, I have been a companion for patients, vigil volunteer, delivery person, check-in caller, and assistant in the office.  These opportunities have filled the gap that I found after leaving my career as an RN."
Wanda particularly enjoyed getting to know one of her patients.  "This lady was a great talker and we both looked forward to my weekly visits."
Wanda has joined other volunteers in an extremely helpful activity of making check-in calls.  "We call the family or patient at the end of the week to be sure they have supplies needed for the weekend.  It's a great chance to let them know they're not alone and helps to avoid emergency situations."
She also felt rewarded by her experiences as a vigil volunteer.  "The caregiver often just needs someone to hold their hand, or to listen if they want to talk about their loved one.  This is a very intimate time and it's an honor to share it with them."
When asked to assist in the Volunteer RN Admission role, Wanda said: "I hesitated to take on a different role; but, after my first visit, I could appreciate what an added benefit this would be for the patients and family.   There is so much information to be absorbed when a patient is admitted to hospice.  As a Volunteer Nurse, I accompany the Admissions Nurse for the initial meeting with the patient and family.  When the Admissions Nurse has finished and left the home, I stay on to answer questions or reinforce important matters they've been told by the Nurse.  If they have new questions, I can either answer them or get in touch with the appropriate Delaware Hospice staff person."
Wanda believes that her presence there has been greatly appreciated by families.  She has been able to reinforce safety issues, demonstrate deep breathing techniques, or emphasize the importance of exercising the arms and legs of bedridden patients.
Sometimes she made an impact simply by being there to listen, she said.  "I visited a wife who was caring for her husband of 62 years and just needed someone to talk with."
Wanda also donates her time and expertise in the Delaware Hospice Family Caregiver Training Program.  While a Delaware Hospice volunteer stays with the patient, allowing family caregivers to attend the training, Wanda and other volunteer RN's provide educational sessions that address the unique needs of family caregivers.  These educational sessions include hands-on training to family caregivers in the areas of safety, infection control, body mechanics, fall precautions, skin care, etc., along with self-care strategies and available resources.
Delaware Hospice is currently seeking nurses statewide who are retired, unemployed, or underemployed and interested in sharing their skills as a Volunteer RN in patient care or caregiver education.  Please contact Ralph Plumley, Support Services Manager, at 302-478-5707 or [email protected] for more information.
More than 800 volunteers bolster Delaware Hospice's activities, each contributing his or her own special gift.   Volunteers may visit patients to give the caregiver a break, run errands, help out in Delaware Hospice offices, or help organize a fundraising event.   In addition to the Volunteer RN Program, unique opportunities for service to others include Vet to Vet Volunteers and Memory Bear Seamstresses. New volunteers receive a comprehensive and worthwhile orientation so that they are well-prepared for their volunteer activities.  To make a difference in someone's life and enrich your own, call the Volunteer Coordinator in your county at 800-838-9800.