Recognizing 25 Years of Leadership in Delaware
|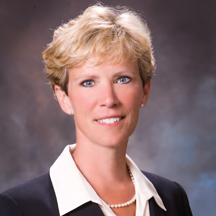 By Susan D. Lloyd, MSN, RN, President and

CEO of Delaware Hospice
In 1987, the young Delaware Hospice, founded by a grassroots committee of clinicians, clergy and community leaders, was struggling to find a suitable leader.  Several had come and gone, and Board members despaired of ever finding the perfect mix of clinical and administrative skills.    Finally, a young woman, holding a BS in Nursing, an MS in Nursing Administration, and a deep passion for home-based healthcare, saw a tiny ad in the newspaper for "Executive Director of Delaware Hospice."  She applied for the position and the rest is history.
This year, Delaware Hospice reached its 30th year of operation, and the young woman who answered the ad, Susan D. Lloyd, President and CEO, celebrated 25 years of leadership.  This remarkable landmark of service would pass as a quiet footnote if it was up to the humble Susan Lloyd.  However, considering the remarkable success story of Delaware Hospice, her contributions must be recognized.
Since its founding in 1982, Delaware Hospice has provided care to 41,500 patients and families through its hospice program.  Countless others have benefited from the organization's community outreach programs focused on grief, support for seriously-ill individuals, and family support.  Delaware Hospice's programs and its President, Susan Lloyd, have received national recognition for innovation and leadership.*
In the following interview, Susan shared her reflections and insight about the Delaware Hospice story.
Q.  What course of events brought you to Delaware Hospice in July of 1987?
I was fortunate to attend Bloomsburg University for my Bachelors Degree in Nursing, where we received excellent exposure to community-based nursing and healthcare services.  I spent an interesting semester as a nurse at a men's maximum security prison.  My early clinical training included med-surgical and critical care in ICU and CCU.  From these experiences, I found home-based care to be the most interesting.  In hospitals, we conform to routines and schedules and our needs are provided for 24/7.  But back at home, we must learn how to live independently and stay compliant with treatments and meds which can be quite challenging.
Shortly after graduation, I decided to pursue a Masters in Nursing with concentration in Administration, and I was excited to land a job with the Visiting Nursing Association.  There, I learned how to apply my education and training in homes, how to be creative and work independently.  At the same time, in the mid-1980's, hospice was getting started in the VNA and I was fortunate to become involved in the nursing component of their hospice services.  I was immediately hooked on this special type of healthcare.   Being able to see people through from treatments to end-of-life and establishing such important and meaningful relationships with those individuals created a lifelong passion for hospice care.
Applying for the position of Executive Director at Delaware Hospice was a bit of a whim, thinking I was too young, but it turned out that my background combining clinical skills, home-based healthcare experience, and an education in administration were just what the Board was seeking.
Q.  What challenges did you face during the early years at Delaware Hospice?
This was a very small organization, with incredibly committed board members and very passionate staff members and volunteers who were working to meet the vast needs of the community.  I saw so much potential with these incredible people and their commitment.  I felt sure that if we all worked together with a focus on what the patients and families needed, that we could really accomplish something here.
The challenges faced then are not so different than what has been faced throughout the 30 year history of Delaware Hospice:  educating the public about the benefits of hospice care; identifying the specific needs of the community and evolving to meet those needs; finding the resources to offer our programs and services and high quality of care free of charge to everyone.  We constantly strive to incorporate the highest level of technology available to optimize patient care and efficiency.   Since the early years, we have voluntarily submitted to accreditation with the Joint Commission, which holds participating organizations to a demanding level of quality care through routine on-site surveys, and which ensures our patients and families the high quality of care they deserve.
Q.   What has been your motivation over the years?
Receiving such positive feedback from our family members and caregivers has convinced me that I know I'm in the right place doing the right thing.  I have been inspired by our amazing staff, volunteers, and board members.  These individuals have all been touched in some way by hospice, and the more you're touched the more you get it and the more you give back.
Q.  What challenges do you foresee in the near future for Delaware Hospice?
As our country examines healthcare services and reimbursement, our challenges are to figure out what's next, how to creatively meet the changes while remaining focused on meeting the needs of our patients and families.  The hospice model of care will certainly play a larger role in people's lives.  This may involve the notion of coordinated care in communities, partnering with other providers so people don't lack healthcare coordination.  I believe there will be more focus on individual needs and structure.
We've been Medicare-focused until now, but things may evolve as baby-boomers become more engaged in their healthcare decisions in the future.  We anticipate a more informed and more demanding consumer.   We look forward to opportunities to be creative, to offer new and non-traditional services, for example how to care for chronological seriously-ill individuals.  We will need to adapt to delivering services with developing technology.  We need to engage in public policy and be part of the discussion of changing healthcare so that the appropriate policy for end-of-life care is developed.
Q.  What do you feel has been your greatest accomplishment in your 25 years of leadership?
People did not know what hospice was and now they do.  They know Delaware Hospice–with its wonderful staff and volunteers–is a resource for end-of-life care and needs.  Family members have been touched; caregivers have reacted positively about their Delaware Hospice experience.  It's been an honor to be able to help people at such a time and to know that they will reflect and feel comforted that they did the right thing for their loved ones.
Q.  How did you combine your successful career with raising a family?
I was fortunate to have great support from family and friends and to have two healthy children.  I believe that it's very important for women to understand that they must take care of themselves so they can care for others.   I made it a point to always run after work before going home, which gave me time to transition from "president" to "Mom."  Having relationships and interests outside of work keep you balanced and more able to understand what's really important in life.
Susan Lloyd, President and CEO of Delaware Hospice, and former Governor Ruth Minner celebrate the dedication of the Delaware Hospice Center in Milford in April 2008.
*Susan Lloyd also serves on the National Hospice and Palliative Care Organization's Board of Directors as the Northeast Geographic Area Director, is the chair of the NHPCO Hospice Action Network and is actively involved on the organization's public policy committee. In this role she serves as an advocate to ensure that all Americans have access to high-quality care at the end-of-life.  During the National Hospice Foundation's 8th Annual Gala last year, "Celebrating the Women of Hospice: A Salute to Heroines and Humanitarians," Susan Lloyd, President and CEO of Delaware Hospice was recognized among a number of women who have shown their dedication to advancing hospice care.