POP art, will travel
|
It was a simple request. "We want you to design a room theme of Charlies Angels,
and it already has a title…" stated the owner of The Roxbury.
The room was donned "Angel Hair" before it was even designed. The design parameters included creating a relief sculpture meant to resemble the iconic Farrah Fawcett hair from the 70's television show, as well as to treat the walls with graphic murals inspired by the opening credits. The true trick was to avoid any and all potential copyright infringements.
Star Trek, The Wizard of Oz, and The Sound Of Music were the other theme
s that Wish was contracted to design around in this multi-million dollar expansion of the Roxbury, a boutique hotel nestled in the heart of the Catskills Mountains in New York.
The owners have been repeat clients since a chance meeting amidst their first more humble expansion 4 years ago. And so went my Summer work schedule as I forged away at fabricating bed canopies out of rolled sheet metal, and exterior hallway murals pre-painted on PVC sheets in my home studio. It took about five trips of installing the pre-fab items as well as painting on-site. This lasted over the course of about a two-month period within some of the hotter months this area has ever seen.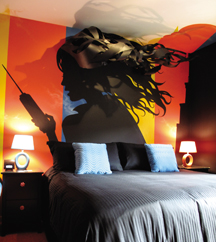 The Roxbury is getting prepared for an official grand opening, though
nearly all of the themed suites are taking in guests.
Early press and guest responses are hugely positive, and the expansion will likely become a massive success. I was recently told "we mention your name every day – as people are always asking who came up with much of this".
Wish Painting + Sculpture has also boasted accolades and press from
other projects in the past year…
including the design and fabrication of Best In Show Floral Exhibit for the Philadelphia Flower Show two years in a row (4 Best in Show exhibits out of the past 5 years were designed by Wish). Wish was also credited with designing Polar Fantasy, another exhibit title as featured subject in an international publication, Fusion Flowers Magazine.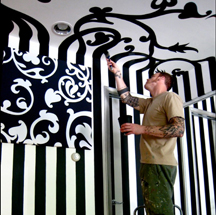 I have found a certain kinship with the Events Industry in the past couple of years as a result of the Flower Show, however I am determined to continue to branch out to any and all types of commercial and residential endeavors. Whether it is a one-of-a-kind nursery or a magic treehouse… a boutique hotel or an over-the-top trade show exhibit, I want to be involved in the "envelope pushing". Good design and quality can produce any and all of the above.
Wish Painting & Sculpture has been operating out of Wilmington, DE since 2003. Local works include the Delaware Ave. "S" turn median mural in Newark, DE, the owl sculpture at The Russell W. Peterson Wildlife Refuge, and the exterior of the Junior Achievement of Delaware facility on Walnut Street.
For more information, please contact Christian at 610.324.0365
or visit www.wishpainting.com to see his featured portfolio and browse the site.
Christian obtained his BFA from the University of Cincinnati (College of Design Arts Architecture and Planning). He had 10+ years experience in the Design and Arts field prior to launching his business. This experience included permanent zoo and museum exhibits, casinos, them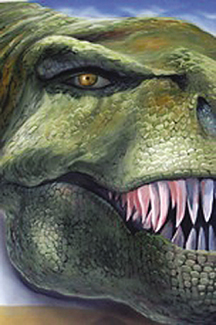 ed environments and commercial sculptures, ornamental metal fabrications, theatrical design and carpentry.
Testimonials:
"The Final Product is outstanding. Every time I look at it I see something new and different."  ~Rick Moore – VP of Roska Direct Advertising
"Chris is the Golden Boy of the Liberties Walk, his vision is unlike anybody I have ever met." ~ Kendall Brown, Owner of Eclatante Event Design & Boutique, Philadelphia
"Chris's work to me is what tattoos are to him… very addictive." ~ Greg Henderson, Owner of The Roxbury
Hotel, Catskills, NY